John McCririck 'not a serious journalist' says Channel 4 boss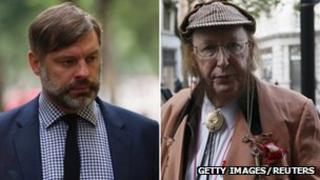 The man who dropped John McCririck from Channel 4's horse racing programmes has said the decision was "entirely unrelated to his age".
Jamie Aitchison, commissioning editor for sport, told a tribunal that the pundit's "exaggerated tone" was "out of step" with the channel's coverage.
Mr McCririck was "seen by many as a comic act rather than a serious horse racing journalist," he added.
The 73-year-old is accusing his former employers of age discrimination.
Channel 4 and IMG Media deny the claims.
'Irritating' style
In a statement to an employment tribunal, Mr Aitchison said: "John McCririck's exaggerated tone and style and propensity to offend was out of step with the vision for the programme, and also unappealing and irritating to many current and potential viewers."
He added that the decision to drop him from the line-up last year was taken for "legitimate and justified reasons".
Speaking earlier this week, Mr McCririck told the tribunal his image as a bigot and a sexist went "side-by-side" with his career as a serious journalist.
The 73-year-old claimed his appearances as a "pantomime villain" on reality TV shows did not reduce his "gravitas" and denied they damaged horse racing.
While admitting there had been plenty of complaints to Channel 4 about his behaviour, Mr McCririck said he was "aware that Channel 4 approved of it because they kept on having me on their programmes".
Channel 4 landed the rights to air all UK horse racing events, including the Grand National and Royal Ascot, in 2012 and began their coverage a year later.
Mr McCririck was subsequently axed from the coverage, as a new-look team led by Clare Balding took over.
Mr Aitchison said he and others at Channel 4 felt that, while the broadcaster's coverage up to 2012 had catered well for "a contingent of dedicated horse racing fans, it was niche and non-inclusive at times".
"Channel 4 set out to create a tone that was a little more serious, measured and inclusive," he added.
Mr Aitchison, who has worked previously as a producer on BBC and ITV sports shows, rejected Mr McCririck's claim that he was sacked because of his age.
He told the tribunal that all the production firms bidding for the contract to make Channel 4's racing programmes had scaled back - or entirely eliminated - Mr McCririck's role in their pitches.
"Not one of those companies came back to Channel 4 and said 'we would like to use John McCririck as a betting pundit in the afternoon'," he said.
"I was considering John for another role at this point, but everybody else had said 'no'.
"I would be foolish to ignore that kind of expertise."
In his witness statement, he said concerns over Mr McCririck's style were supported by audience surveys, press coverage and viewer complaints.
"None of the decisions taken in respect of who to invite and who not to invite to be in the on-screen team for Channel 4 Racing from 2013 were taken on the grounds of their age, or indeed for any reason other than merit, including the decision not to invite John McCririck to be part of the team," he added.
'Top of his game'
Wednesday's proceedings also saw the Conservative MP Philip Davies appear as a character witness for McCririck.
"I can't think of anybody who is more on top of his game, nor suitable for the role," the MP for Shipley in West Yorkshire told the tribunal.
Mr Davies, who sits on the Culture Select Committee, acknowledged he had previously criticised Channel 4 for "being too politically correct".
Mr McCririck was supported in his claims of ageism by former Channel 4 racing presenter Lesley Graham who gave evidence to the hearing on Tuesday.
In a statement, Mrs Graham, whose workload was cut from 40 days to 15 in 2009, said: "I had no notice that this was going to happen and was extremely surprised and disappointed.
"The only reason I could think that my annual days were being reduced was because of my age - I was due to turn 50 in 2010," she said.
The hearing continues.