Sir Tony Robinson to appear in Wind in the Willows show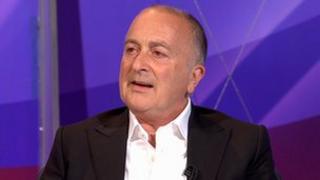 Blackadder actor Sir Tony Robinson is to make his first theatre appearance in 16 years in The Wind in the Willows.
The 67-year-old will play the narrator, Kenneth Grahame, in the Royal Opera House production, which plays at the Duchess theatre in London for eight weeks over Christmas.
The dance musical, based on Grahame's 1908 book, has had three runs since it was originally staged in 2002.
Dancer Will Kemp will reprise his role as Ratty.
Best known for his portrayal of the hapless Baldrick in BBC comedy series Blackadder, Sir Tony last appeared on stage in Alan Bennett's Forty Years On in 1997.
He has previously appeared in the West End, at Chichester Festival Theatre and the National Theatre as well as with the Royal Shakespeare Company.
His television credits include Channel 4's archaeology series Time Team, which he presented until it was axed last year.
Sir Tony received a knighthood in this year's Queen's Birthday Honours.
The Wind in the Willows, which tells the story of four woodland friends using singers, dancers, actors and puppets, is the Royal Opera House's first commercial transfer to the West End.
As well as Kemp, whose credits include Matthew Bourne's Swan Lake, the cast includes Cris Penfold as Toad, Christopher Akrill as Badger and Clemmie Sveaas as Mole.
Choreographed and directed by Tuckett, the production is celebrating its 10th anniversary.