Clinton mini-series scrapped by NBC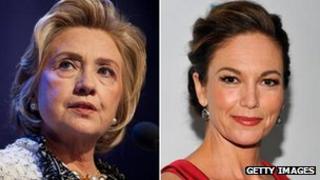 A drama starring Diane Lane as Hillary Clinton has become the second TV project about the politician to be cancelled this week.
NBC announced it was dropping plans for the four-hour mini-series just hours after a CNN documentary on the former US secretary of state was abandoned.
Each project faced opposition from both the Democratic and Republican parties.
A Hollywood film project about the young Mrs Clinton will still go ahead, according to the New York Times.
A statement from NBC said: "After reviewing and prioritising our slate of movie/mini-series development, we've decided that we will no longer continue developing the Hillary Clinton mini-series."
It is thought the drama would have focused on Mrs Clinton's life as a wife, mother, politician and cabinet member from 1998 to the present.
Even though no script had been written, the Republican National Committee voted on 16 August to boycott NBC and CNN during the 2016 presidential primary debates.
The Hollywood Reporter claimed the project had also angered NBC's own news division.
The wife of President Bill Clinton has been closely watched as a possible contender for the Democratic Party's 2016 nomination since leaving her position as secretary of state in January.
The Republican National Committee claimed that both the CNN and NBC productions amounted "to little more than extended commercials promoting former Secretary Clinton" and "political ads masked as unbiased entertainment".
Documentary director Charles Ferguson claimed that pressure from Clinton supporters in the Democratic Party led to many sources shying away from his CNN programme.
In a Huffington Post blog on Monday, he said "nobody" had been interested in helping him make the film and that it was "a victory for the Clintons and for the money machines that both political parties have now become."
A feature film entitled Rodham, a reference to Mrs Clinton's maiden name, will focus on her years as a young lawyer during the Watergate era, the New York Times reports.
It said that James Ponsoldt would direct the film based on a script by screenwriter Young Il Kim, but that the project was still in its very early stages.
A new draft of the script is expected to play up the early romance between Hillary and Bill Clinton.