Profile: Racing pundit John McCririck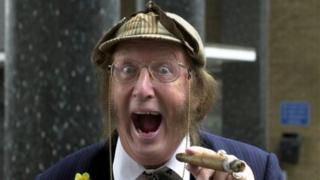 He has made a career as the loud, garish and eccentric face of Channel 4's racing coverage, and is as recognisable for his signature deerstalker hat as his reality TV appearances.
John McCririck, 73, who has lost an age discrimination tribunal against his former employers Channel 4 and IMG Media Ltd, was once described by television critic Nina Myskow as having "all the charm of an armpit".
He was also a waiter, bookmaker and British Press Award-winning journalist before going on to become a racing pundit for ITV.
In 1984, Channel 4 took over TV racing coverage and he went on to become the flamboyant figurehead of Channel 4 Racing for 29 years and 5,000 broadcasts, until he was axed last year as a new-look team led by Clare Balding took over.
The fast-talking, wildly gesticulating tipster was raised in Jersey by wealthy parents and educated at Harrow.
'The real me'
Known for his energetic dispatches from the racecourse - clad in tweed and gold jewellery, clutching giant Havana cigars - to his followers he is "Big Mac" and the punter's friend.
However, he told The Guardian in 2001 that he was only on television because he "failed at everything else" - including being sacked by the Dorchester Hotel for spilling soup over a customer, and being dismissed by Sporting Life in 1984.
He was, he declared, "a failed punter, a failed bookmaker, a failed journalist". But he also insisted that his on-screen character was "the real me".
"You are as you are on the telly," he said. "I think it's the real me. Anyone who tries to put on an act on telly over the years wouldn't get away with it."
But at his tribunal in October he said he had played a "pantomime villain" during appearances on reality TV programmes Celebrity Big Brother and Celebrity Wife Swap.
"This is a different persona," he said of his bombastic and "domineering" image, adding: "You are putting on a performance, you are doing a pantomime act."
The hearing heard from witnesses including Channel 4's chief creative officer Jay Hunt, who accused McCririck of making "false allegations" and denied she was a "serial age discrimination offender".
Jamie Aitchison, the broadcaster's commissioning editor for sport, said McCririck was axed because he was "unappealing and irritating to many current and potential viewers".
McCririck told the tribunal that his home was at risk if he lost the hearing, a move he said would be "disastrous".
"I have put my own personal future on the line," he said. "But I think it's so important for people in their 30s up to their 70s who fear anonymous suits and skirts coming along and getting rid of them."
After the tribunal panel ruled against him, McCririck said: "This is a historic setback for all employees in their 30s to their 70s," adding that it paved the way for "anonymous skirts and suits" to replace older employees "whatever their unimpaired ability and merit".
Celebrity Wife Swap revealed his recumbent lifestyle at home in London with his wife Jenny - referred to by McCririck as "the booby".
He told the Guardian in 2004 that this was in reference to a South American bird that is "stupid and pathetically easy to catch and squawks a lot".
He appeared with Jenny on Celebrity Coach Trip in 2011, becoming the only couple to be voted out unanimously, twice.
Before that he lasted just 12 days in the Celebrity Big Brother house in 2005, before being evicted amid accusations of sexism and misogyny.
Yet McCririck denied he was "anti-women", saying he was never asked to tone down his language on air.
Meticulous
''It's a very public school thing, it's a bit immature but it lightens up the programme," he said at the end of the first tribunal hearing.
Five Live presenter and former Channel 4 racing commentator Derek "Tommo" Thompson worked with McCririck for 30 years before also being dropped from Channel 4.
"John is without doubt the most professional man I've ever worked with," he said. "He does his homework. He has two race cards in case he loses one, and two watches in case one stops. He is meticulous."
Thompson described McCririck as "on the ball" and maintained that his views were "provocative but not far-fetched".
"He's razor sharp," he said. "He talks a lot of sense. His ideas have helped punters across the world."
Fellow former racing presenter Lesley Graham - who told the tribunal that she believed a reduction in her working hours had been because of her age - also pointed to a difference between McCririck's on and off-screen personas.
"He's not like he appears," she said. "He's no shrinking violet, but off-camera he is quite quiet and private."
However, she added: "I wouldn't go as far as to say it's all an act. There's a reasonable male chauvinist in there! But Mac is just more open about expressing that than other people.
'The face of racing'
"When I first joined Channel 4 there were not many other women on TV, and John was the one person to call me and wish me luck.
"He is very much like Marmite, but whether you love him or hate him, he did give our sport a wider profile. TV is entertainment and what Mac brought to our sports programme was colour and controversy."
McCririck was replaced in October 2012 by the new presenting team headed by Balding.
Yet he has historically described himself as "the face of racing alongside Frankie Dettori".
"I acknowledge I antagonise people, as twice in the Celebrity Big Brother House proved," he told the Daily Telegraph last October.
"Yet as Clare Balding, a terrific choice to head the new young team, said recently, I've become the face of racing alongside Frankie Dettori and now, of course, Clare herself."