Chris Evans vows to give lottery show 'more heart'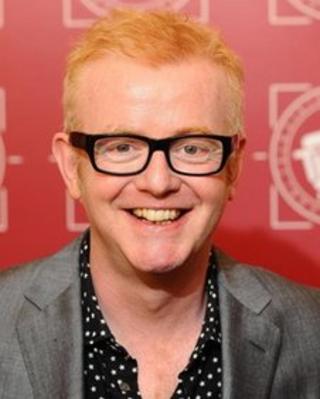 Chris Evans has said he will give the National Lottery show "more heart" when he takes over as its host on BBC One this weekend.
The Radio 2 breakfast DJ will present the show for the next 13 weeks after an 18-year absence from Saturday night TV.
He told the Radio Times he hoped to raise the 12-minute programme above its current "two dimensional nothingness".
Evans added that he hoped the live game show would be the beginning of more prominent roles on weekend TV screens.
He described the current National Lottery programme as "barely a show".
Evans fronted hit shows TFI Friday and Don't Forget Your Toothbrush for Channel 4 in the 1990s,
The 47-year-old currently hosts a weekday BBC Radio 2 breakfast show as well as BBC One's Friday evening edition of The One Show.
'Safe hands'
Evans also presented The Big Breakfast and the BBC Radio 1 breakfast show in the 1990s, before moving to Virgin Radio and later buying the station.
The 47-year-old presenter, who has attracted 9.75 million listeners as Terry Wogan's early-morning successor on Radio 2, said he could now be regarded as "a veteran consummate broadcaster".
"The thing is, when you're young, you're allowed to mess up. You are allowed to start lots of things and not necessarily finish them," Evans told the magazine.
"You can leave a wake of success, mediocrity and destruction. And you can sort of, professionally, get away with it. It's a rite of passage. But as you get older, you have to make things stick, I suppose. You're given jobs where you're a safe pair of hands."
The National Lottery Live is on BBC One, 5 October at 21:10 BST.