Jim Crace makes Goldsmiths Prize shortlist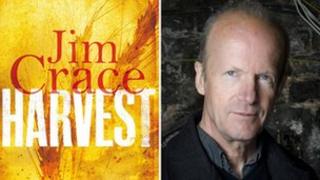 Jim Crace's Harvest, one of the favourites to win the Man Booker Prize, has been shortlisted for the new £10,000 Goldsmiths Prize.
Also on the inaugural shortlist is Exodus by Lars Iyer, A Girl is a Half-Formed Thing by Eimear McBride, Red or Dead by David Peace, Artful by Ali Smith and Tapestry by Philip Terry.
The award has been created by Goldsmiths, University of London, and New Statesman magazine.
The winner is announced on 13 November.
The prize is open to novels written by authors from the UK or the Republic of Ireland and is awarded to a book that is "deemed genuinely novel and which embodies the spirit of invention that characterises the genre at its best".
Crace's Harvest is an allegorical tale of rural isolation in which the narrator Walter Thirsk sees his village fall apart over the course of seven days.
"In the prize's inaugural year, we are delighted to announce a shortlist that so clearly exemplifies the spirit of the award," said Dr Tim Parnell, chair of judges and head of the department of English and comparative literature at Goldsmiths.
"All six books are strikingly original and all of them refuse the ready comforts of convention. Making full use of the resources and possibilities of the novel form, each writer has found the distinct idiom that their story demands."
Dr Parnell is joined on the judging panel by novelists Nicola Barker and Gabriel Josipovici; and Jonathan Derbyshire, former culture editor of the New Statesman.