Danny Dyer to take over EastEnders' Queen Vic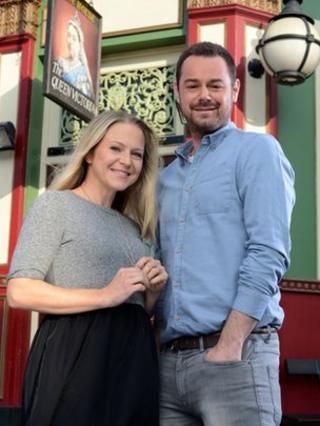 Actor Danny Dyer is to become the new landlord of the Queen Vic, when he joins EastEnders at Christmas.
The 36-year-old, who is often typecast in "hard man" roles, will play Mick Carter, brother to Shirley Carter (Linda Henry).
Mick is described as a "bloke's bloke" with a soft heart. He will be joined behind the bar by his wife Linda, played by actress Kellie Bright.
"I'm so excited about starting a new chapter in my career," said Dyer.
"I cannot wait to become part of the East End family."
The actor is a real-life East end boy, born in Canning Town in 1977.
As a teenager, he was talent-spotted at his Sunday School by an agent who put him forward for a role alongside Helen Mirren in Prime Suspect 3.
His role as a conflicted football hooligan in 2004's The Football Factory won critical acclaim, but he has also been mocked for low-rent movies like Doghouse, in which he fought off a group of man-hating female zombie cannibals.
"Danny Dyer has become the byword for low-budget, no-quality Brit-trash cinema," wrote one reviewer in 2010, "but beneath the cockney swagger there's a decent actor struggling to get out".
Indeed, he starred in two Harold Pinter plays early in his career, striking up a lasting friendship with the enigmatic playwright.
EastEnders' executive producer Dominic Treadwell-Collins said he was looking forward to the arrival of Mick and Linda Carter in the soap's infamous public house.
"I'm so excited to have actors of Danny and Kellie's calibre joining what is an already strong and talented company of actors," he said in a statement.
"Having been together over 20 years, Mick and Linda have a good marriage and an easy shorthand with each other - but can also still fight like teenagers.
"They will laugh, cry, argue and make-up... much to the embarrassment of their children and the delight of Albert Square's residents."
Dyer had previously discussed a role on Albert Square in 2009, but decided against it.
"I quite liked the idea," he said at the time, "but actually, in reality, I just got cold feet.
"Just from having a meeting, it's all over the newspapers and it gave me the horrors. Imagine if I went in it?"
It has already been revealed that former This Life and Holby City star Luisa Bradshaw-White is to join the EastEnders cast as Tina Carter, another of Shirley's siblings.