Ian McEwan on the appeal of Brazil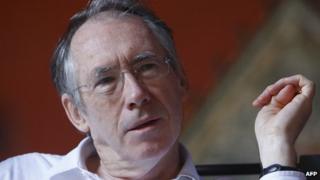 The city of Sao Paulo would provide a rich setting for a book, offering infinite possibilities to an author, writer Ian McEwan has told the BBC World Service.
McEwan was giving a rare interview ahead of a festival of Brazilian literature, FlipSide, in Suffolk this weekend.
It has been co-founded by former director of Bloomsbury publishing Liz Calder, as a British counterpart to the original Flip festival, which takes place in the pretty coastal town of Paraty.
In the past it has attracted the likes of Martin Amis, Margaret Atwood, Salman Rushdie, Hanif Kureishi and Will Self - as well as McEwan himself - to Brazil.
The author of Atonement and Enduring Love began his interview by singing the praises of a young Brazilian writer Tatiana Salem Levy.
Her story, Lost Time, is included in an anthology of Brazilian writers which will be launched during the Suffolk event.
What appealed to you about Tatiana Levy's story, Lost Time?
I thought it was a wonderful story that wears its symbolism very lightly.
It's about a woman who is invited to a funeral: She is 60 years old, the funeral is without a body. It is [the funeral] of her lover who died 40 years ago. They were both fighters in the resistance.
He's died, disappeared, there are no documents about him, so the family and friends have gathered to bury him in a coffin that is empty.
She returns to the coffin a little amulet that he gave her on the night that he disappeared. And yet she drives away smiling, full of a sense that she is in charge of time.
I was very touched by that, I thought in the space of six, seven pages, this writer, a young writer, catches something quite profound about a country that has come out of a dictatorship, a totalitarian, military state and is now on the edge of being a world power.
You've been friends with Liz Calder for many years. Can you remember the first time she spoke about Brazil?
It was about 12 years ago. I was very surprised when she told me she had bought a place just outside Paraty. Then, the next thing, I find myself with my wife and our younger son Greg in Paraty. Then the fun started.
Greg said at breakfast, after the first night: "I have found my second country. This has been the best 12 hours of my life!" He later went back to Brazil and became fluent in Brazilian Portuguese.
We had an amazing week at this festival. It had only been going one year but it was already apparent that the festival was going to turn around the fortunes of this rather sleepy, colonial, extremely pretty, coastal town.
How much impact does Brazilian culture have in the UK?
It is difficult to quantify but things are about to change, with the World Cup and the Olympics. There will be a fantastic focus on all things Brazilian.
We have watched the protests in Brazil with interest. And there is a huge Brazilian community in London.
But there is an age-old problem - translation. We don't even read much French modern literature and they [the French] are only a few miles away.
We have both the fortune and misfortune to speak a world language and with that comes a kind of blindness. If you are at the centre of an empire, you become incurious. But I think it will change.
You are a fan of the work of American poet Elizabeth Bishop. Have you read the poems she wrote about Brazil? Have any of them stayed with you?
We had a private tour of her house in Ouro Preto. There's a poem that she wrote as if she is catching snatches of conversations from her window (Under the Window: Ouro Preto). A wonderful celebration of a place, it couldn't be anywhere else. Rather like when one reads the poetry of Wordsworth in a particular location.
She used to call herself shy. Yet in her letters to friends she said she felt very welcome in Brazil, and surrounded by the warmth of the people. Did you feel the same?
I'm cautious about dealing in cliche, but it is the case that any visitor to Brazil almost immediately feels this warmth. It's a very good country to be a traveller in. People are so immediately pleasant, it is quite extraordinary.
Would you ever set one of your books in a foreign land?
Only if I needed to and in the terms of staying within the circle of my ignorance. In other words, I couldn't pretend to inhabit and understand from the inside a foreign culture.
But to send a character through a landscape with the impressions that might be mine or invented, absolutely, one needs that freedom.
So, imagine a character travelling through Brazil. What would he see through the window?
My first thought is about the city. I think 85% of the Brazilian population lives in cities. I spent a few days in Sao Paulo and felt almost as if I was on another planet. Almost twenty million people, maybe only Mexico City is bigger. You are looking at a human agglomeration on another scale from London or New York. So, to make this thought experiment I would have one of my characters get lost in Sao Paulo. Get lost and either get frightened or full of wonder, or possibly both.
There are two lines of thought about these colossal cities. One line is that they contain a vast human and social tragedy of slums and so on. The other view, more optimistic, is cities are the great engines of vitality and innovation. That there is more organisation in a slum than social anthropologists ever dream.
That paradox is one that a foreigner would be interested in. Some time in the late 80s, on planet Earth, suddenly more people lived in the cities than in the countryside. It was a huge turning point and we are still living through a big revolution in human consciousness: the vast flight from the countryside to the city.
This has certain positive aspects. Women tend to have fewer children when they move to the cities, so they can flourish more, and children tend to get better education in the cities, even in poorer circumstances, than in the countryside. Also, this leaves open a lot of land, for agriculture and wilderness. Yet, at the same time, there are gangs, violence, drugs, deprivation, homelessness and so on.
We still face a population explosion but sometime in the 21st century the population will age and shrink. That, too, may be a fantastic opportunity. It's an open question.
That book of yours sounds very interesting. So, to finalise, there will be music at the festival. Have you heard any Brazilian music?
I bid at a charity auction for a wonderful classical guitarist, Craig Ogden, to play at my house. We had friends come around and after he played, he gave his guitar to our friend, who sang these beautiful Brazilian love songs. Everyone was a bit tearful around the table. Well, they were softened up by some very good red wine!
I thought: "Yes, it's time to get back to Brazil."
The Flipside Festival begins on Friday 4 October.
Radio 4's short story series Brazilian Bonanza also kicks off on Friday with Lost Time by Tatiana Salem Levy at 1545.