Year of Living Dangerously author CJ Koch dies at 81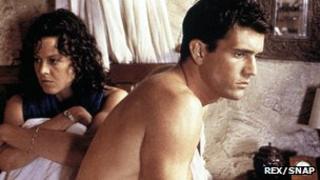 Australian author Christopher John Koch, best known for writing The Year of Living Dangerously, has died at 81.
His agent, Margaret Connolly, confirmed he died of cancer in Tasmania.
Koch's work came to wider attention when The Year of Living Dangerously was adapted into a Hollywood film, starring Mel Gibson and Sigourney Weaver.
But Koch believed some of his later novels were better. "If a book is made into a film, they hang it around your neck forever," he said last year.
"I've written other books since, that I think might be better, but people always come back to that one and it's because it was a film," he told the Weekend Australian newspaper. "That's how much film dominates our culture."
Koch was born on 16 July, 1932, in Hobart, on the southern Australian island of Tasmania.
He left Hobart for Britain as a young man, detouring via south Asia. He worked in London for several years but returned to Australia after being told he would have to do national service in the British Army.
He published his first novel, The Boys in the Island, in 1958, a coming-of-age story about a young man growing up in Tasmania but dreaming of moving to the mainland.
Positive reviews led to a creative writing fellowship at Stanford, where he studied alongside Larry McMurtry and Ken Kesey.
Fall out
After more than a decade living in Sydney as a writer and radio producer for the Australian Broadcasting Corporation, Koch devoted himself full time to writing in 1972.
The Year of Living Dangerously, published in 1978, follows a reporter after the fall of Indonesia's Sukarno regime in 1965. The character was loosely based on Koch's brother Philip, who was a foreign correspondent.
It was adapted for the big screen in 1982, earning a best supporting actress Oscar for actress Linda Hunt's portrayal of Hamilton's male photographer friend and mentor, Billy Kwan.
Koch was credited as a co-writer of the film's screenplay, but he had a dispute with the director, Peter Weir, during the making of the movie - in particular over the casting of Hunt.
"My feeling was that it was worth a gamble," Weir, whose hits include Witness and The Truman Show, told the New York Times in 1983.
"But can you imagine how horrified Chris Koch must have been to hear that a woman was going to play his precious creation?"
Over the course of a 55-year career, Koch wrote some eight novels, often exploring Australia's relationship with its Asian neighbours.
Two later novels, 1985's The Doubleman and 1996's Highways to a War, won him Australia's prestigious Miles Franklin Award.
Despite moving around for much of his life, Koch eventually settled back in Tasmania, in the town of Richmond.
Last year, he was diagnosed with cancer and given only weeks to live but went on to see his final novel, Lost Voices, published to critical acclaim in September 2012.
"Koch has an extraordinary power of evoking place," novelist Graham Greene once wrote, "and I feel now that Tasmania is part of my memory."
The author is survived by his second wife, Robin, and his son, the classical guitarist Gareth Koch, from his first marriage.