Rush motors to top of UK box office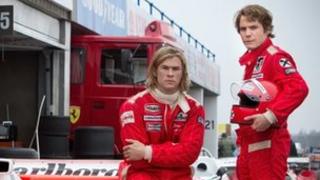 Formula 1 movie Rush has climbed to the top of the UK and Ireland box office chart in its second week, taking £1.3m.
The film, about the rivalry between James Hunt and Niki Lauda, knocked horror sequel Insidious 2 down to second place.
The biggest new entry in the top 10 was Diana, which sees Naomi Watts play the late Princess of Wales.
Despite being widely panned, it still drew in audiences, taking £623,051 and putting it at number five in the chart.
One reviewer called the film "a cheap and cheerless effort that looks like a Channel 5 mid-week matinee".
Terrorist drama White House Down, starring Channing Tatum and Jamie Foxx, stayed a number three, while Richard Curtis' romantic comedy About Time remained at four.
Zombie cop comedy RIPD, starring Ryan Reynolds and Jeff Bridges, was another new entry at number seven despite poor reviews.
Halle Berry thriller The Call - which sees the Oscar-winner play an emergency services operator caught up in a drama when she answers the phone to a teenage girl in danger - was another new entry at eight.
The film, which also features Abigail Breslin, took £409,975 in its opening week.