Irrfan Khan: Bollywood is 'unimaginative'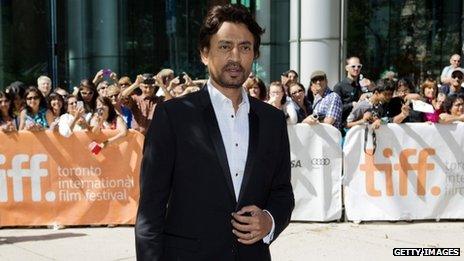 Slumdog Millionaire actor Irrfan Khan has criticised Bollywood for a lack of creativity, which he says is stifling the industry .
"I think the songs are being used unimaginatively," he told the BBC's Asian Network.
"Earlier, in the 50s and 60s, we had our own unique language and the songs were used in a very imaginative way; songs were the strength of the film".
"Now we have become complacent, the songs have become a burden."
"That's why universal audiences from the West cannot connect," he added. "There's no credibility"
Khan has credits in more than 100 films, including Bollywood hits Haasil and Paan Singh Tomar. His English language films include Life Of Pi and The Amazing Spider-Man.
He was speaking to Asian Network presenter Bobby Friction as Hindi cinema celebrates its centennial year: The movie Raja Harishchandra, widely recognised as Indian cinema's first silent film, was released on the 3rd May 1913.
Asked what the milestone meant to him, Khan said: "We don't have many sources of entertainment - that is the reason we have survived 100 years".
"There was outstanding work, fabulous work which was done earlier. We had fantastic directors, there were films which were made in so-called Indian style, with song and dance, but they used to deal with complex problems; they used to address the issues of society, but we lost that magic.
"We have been surviving 100 years, but it does not mean we have any reason to celebrate it," he added.
The 46-year-old, who has starred in a Hindi adaptation of Macbeth, said he had tried throughout his career to avoid lightweight films.
"There are films which are like a one night stand: You indulge and you forget. I don't enjoy those kinds of films very much".
"I try to do films which leave a longer impact, which speak to you and which keep coming back to you after you've seen them, I prefer movies which have a longer relationship."
Khan's latest production, The Lunchbox, is the only Indian film to be selected for competition at the London Film Festival next month.
Already the winner of a viewers' choice award at the Cannes Film Festival, it is a delicate love story that centres around the Indian system of "dabbawallahs" - a community of couriers who pick up hot meals cooked by housewives and deliver them to their husbands' office desks.
Khan plays a lonely accountant, who mistakenly receives a lunchbox intended for a colleague - and starts a clandestine correspondence with his wife.
"The film has already connected to a universal audience," said Khan.
"Even in India, the audience is growing every week for these kinds of films, so you can say [they] are newer commercial Indian cinema."
He added that Bollywood had grown "complacent" about reaching international audiences, but said new talent was "forcing" the industry to confront the problem.
"There is a whole new generation of directors who are dying to connect to the universal audience. They are just looking for the right opportunity."
Hear the full interview with Irrfan Khan on BBC Asian Network's show Bobby Friction, from 1730 GMT on Tuesday, 1 October.
Related Internet Links
The BBC is not responsible for the content of external sites.