Cate Blanchett tipped for Oscar glory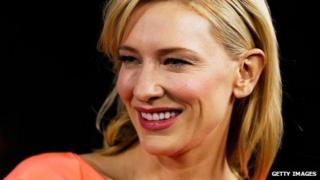 Cate Blanchett has emerged as an early frontrunner for this year's best actress Oscar, following rave reviews for her performance in Blue Jasmine.
The Woody Allen film recalls Tennessee Williams' classic play A Streetcar Named Desire, with Blanchett playing fallen New York socialite, Jasmine.
Telegraph critic Tim Robey called her "fascinating" turn "a very likely fast-track to Best Actress glory".
"It will need a miraculous performance to defeat her," added the Mail.
"Cate Blanchett leads an impeccable cast in Allen's 46th film as director," said the paper's film critic, Chris Tookey.
"Mesmerising, loathsome but full of pathos, hers is a barnstorming performance, reminiscent of her stage turn as Blanche DuBois in A Streetcar Named Desire, but with more than a touch of Lady Macbeth as well."
"Front and centre, and in fact sloshing generously over the film's edges, is Cate Blanchett's fascinating lead performance," said Robey.
"'You hire her and get out of the way,' Allen has modestly said of erecting this film around his technically brilliant leading lady, which is a clue to how overwhelmingly vivid her presence is."
"Woody Allen deserves his five-star review and Cate Blanchett an Oscar for her role as a modern-day Blanche DuBois," concurred Kate Muir, in the Times.
The film follows Jasmine, "a Park Avenue Princess", whose wealthy husband Hal (Alec Baldwin) winds up in jail as a result of dodgy business practices.
Falling on hard times, she moves in with her adopted sister, Ginger, who lives in a humble apartment in San Francisco. Depressed and addicted to alcohol and pills, Jasmine desperately tries to maintain the appearance of wealth and decorum, as the truth is gradually revealed.
"In Blanchett Woody Allen has found a female lead to rival Mia Farrow in Broadway Danny Rose," wrote Peter Bradshaw in the Guardian.
"She gives an electrical charge to this minor-key drama", added the critic, who called the film "pure movie-going pleasure"
"That we watch her with such fascination and, until almost the end of the film, suspension of judgment, even some sympathy, is because she is Cate Blanchett giving an absolutely stunning performance, playing off her own beauty and charisma against her character's flaws," wrote David Sexton in London's Evening Standard.
Writing his final column in the Independent, critic Anthony Quinn called Allen's casting of the Australian star "the smartest choice of his career".
"With every twitch, every startled glance and impatient gesture, Blanchett finds the human within this monster of snobbishness," he said. "If I have bestowed an extra, perhaps unwarranted star on the film it's because of her."
Blanchett, who won best supporting actress for her performance as Katharine Hepburn in The Aviator, in 2005, is currently filming in Kenneth Branagh's Cinderella.