Martin Freeman cast in Fargo TV series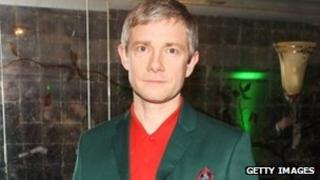 Sherlock Holmes star Martin Freeman has been cast in the television adaptation of the movie Fargo, according to The Hollywood Reporter.
The British actor will play Lester Nygaard, who is based on the character played by William H Macy in the film.
Joel and Ethan Coen directed the 1996 film, which won won an Oscar for leading lady Frances McDormand.
Billy Bob Thornton has already been announced as a lead in the FX 10-part series.
The new version of Fargo will have different characters and storylines to the movie, but the humorous crime stories will remain "remarkably true to the film," said FX network boss John Landgraf.
The Coen brothers, who won a best screenplay Oscar for Fargo, are on board as executive producers.
Fargo was included in the American Film Institute's 100 Greatest American Movies list, and inducted into the US National Film Registry in 2006.
Freeman will play a henpecked insurance salesman who is preyed upon by Thornton's character, Lorne Malvo.
Filming will take place in Canada and the drama is expected to be shown in the US next spring.
Freeman got his big break on the original version of The Office, playing the beleaguered and often-exasperated character Tim.
More recently he has been playing Dr Watson in the BBC's Sherlock, which returns for a third series in 2014.
He also has a starring role in Peter Jackson's Hobbit trilogy, in which he plays Bilbo Baggins. The second instalment - The Hobbit: The Desolation of Smaug - will be released in time for Christmas.