De Niro to step into Gandolfini's Criminal Justice role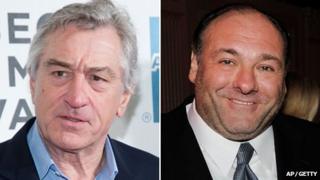 HBO has revealed Robert De Niro will replace James Gandolfini in new mini-series Criminal Justice, following the death of The Sopranos star in June.
De Niro will play an ambulance-chasing New York lawyer in the show which Gandolfini had been developing, based on the 2008 BBC series by Peter Moffat.
Gandolfini had starred in the pilot episode and will remain an executive producer posthumously.
He died in Rome earlier this year after suffering a heart attack, aged 51.
The show's future had been unclear but according to Deadline Hollywood the team was keen to continue in Gandolfini's honour, because he had been so passionate and committed to the project.
The website's TV Editor, Nellie Andreeva, said HBO wanted "a great actor whom Gandolfini would have wanted for the role and who would honour Gandolfini's memory with his performance".
She added: "I hear their list consisted of one name only, Robert De Niro, who responded and came on board."
It is not yet confirmed when the seven hour mini-series will air, but production is expected to begin in March.
Criminal Justice sees De Niro's character Jack Stone take on the case of a Pakistani, played by British actor Riz Ahmed, who is accused of murdering a girl on New York's Upper West Side.
The BBC original took a different approach, with each episode tracking an individual murder case on trial with a different cast.
However, writer Moffat is an executive producer on the HBO series, which was written by Richard Price.
The first hour will be directed by Steven Zaillian, who has been looking after the project for more than four years.
The series was one of Gandolfini's last on-screen roles, along with indie romantic comedy Enough Said which is due for UK release 18 October.
HBO originally rejected the pilot in February, but revived the idea as a mini-series in May.