Michael Jackson 'made some bad choices'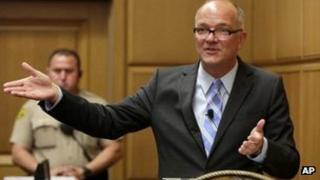 Michael Jackson's drug-taking meant he "was playing Russian roulette in his bedroom every night", a lawyer for AEG Live told the court in the singer's wrongful death trial.
During closing arguments, Marvin Putnam told the jury that the star died because of his own "bad choices".
"You can't blame someone else for his bad choices."
The Jackson family want $290m (£181m) in personal damages from concert promoters AEG over his 2009 death.
The singer died at the age of 50 from an overdose of the surgical anaesthetic propofol, ahead of a series of comeback concerts in London.
The family claims AEG Live failed to properly investigate Dr Conrad Murray - the former cardiologist who was convicted of involuntary manslaughter in 2011 - and missed warning signs about the singer's health.
But, summing up on Wednesday, defence lawyer Mr Putnam claimed the star never told the producers that he was using propofol to overcome his chronic insomnia.
"AEG only learned the truth after Mr Jackson passed," he added.
"AEG would have never agreed to finance this tour if they knew Mr Jackson was playing Russian roulette in his bedroom every night," Mr Putnam told jurors.
'Speculation and guesswork'
Mr Putnam reiterated that it was Jackson, not AEG, who insisted on hiring Murray - then his family doctor - as his on-site doctor for the This Is It tour in London.
"He didn't ask AEG," the lawyer said. "He said, 'We're using this doctor'. He was a grown man of 50 and as a grown man he is responsible for his own health and his own choices no matter how bad those choices may be."
"It was his money and he certainly wasn't going to take no for an answer," he said.
Mr Putnam focused on emails and excerpts from proposed contracts, arguing that there never was a contract between Murray and AEG.
"You can't negligently hire someone unless you hire them," he said, adding: "The evidence is very clear that Michael Jackson was the one who hired Dr Murray."
He dismissed the Jackson family claim for $290m in damages, based on the singer's potential earnings, as "speculation and guesswork".
"I'm sorry, that's an absurd number. And they haven't even remotely proved it."
Jackson lawyer Brian Panish is expected to have one last chance to respond to the closing arguments before the jury retires to consider its verdict, which must be agreed by nine of the 12 jurors.