Batman police spin-off commissioned by Fox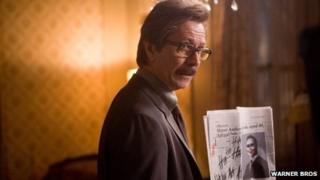 The Fox television network has ordered a Batman spin-off series based around police commissioner James Gordon.
The Gordon "origin" story, to be titled Gotham, will follow him in his days as a detective, long before Bruce Wayne dons the batsuit.
Written by Britain's Bruno Heller (The Mentalist, Rome), it will feature some of the series' best-known foes - though Batman himself will be absent.
Fox, who won the show after a bidding war, has already ordered a full series.
Gordon is a staple of the Batman series who first appeared in Detective Comics #27, the same issue that introduced the Dark Knight.
The character was played by Gary Oldman in Christopher Nolan's recent film trilogy, by Pat Hingle in the four Batman films that preceded it, and by Neil Hamilton in the 1960s TV series.
In the comic book world Gordon has already starred in two spin-offs, Batman: GCPD and Gotham Undercover.
The announcement of the new series came hours before the US premiere of Agents Of S.H.I.E.L.D. - an ABC TV show based on the Avengers franchise owned by rival comic book giant Marvel.
Gotham is one of three comic book properties now in development at Fox, alongside adaptations of Unthinkable and Alan Moore's League of Extraordinary Gentlemen.
A Wonder Woman revival is also being mulled over by The CW, the US TV network that airs the comic book-inspired Arrow.