Benjamin Britten war scores to have public premiere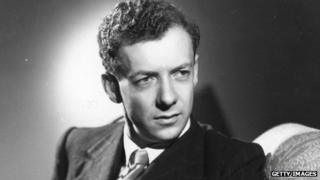 Music written by Benjamin Britten for radio broadcasts during World War II is to be performed in public for the first time, 70 years after it was composed.
Britten wrote the scores for An American in England, a six-part series about English life that aired on the CBS radio network in the US in 1942.
The music will be revived by the Halle Orchestra in Manchester next month.
Halle composer emeritus Colin Matthews said the "substantial scores" were "full of orchestral colour".
The concert is part of extensive celebrations marking the centenary of the birth of Britten, one of the UK's most illustrious and prolific 20th Century composers.
Matthews said the composer's "ability to create memorable music out of simple ideas is just as evident here as it is in his major works".
"There are few enough purely orchestral works by Britten - only two between 1942 and 1963 - not to welcome the opportunity to hear this 70-year old music," he said.
The composer worked as an assistant to Britten before his death in 1976 and now chairs the Britten Estate.
'Limbering up'
A pacifist and conscientious objector, Britten saw composing for radio broadcasts about the war as his equivalent of "war work".
He had previously written scores for factual films for the GPO Film Unit, but most were composed for around five or six performers.
The radio music was recorded by the 62-piece Royal Air Force Orchestra. "Here he had a full orchestra at his disposal," said Matthews.
The pieces show glimpses of the style he would use in his first full opera Peter Grimes, a major success when it opened in 1945.
"It's almost as if, with Peter Grimes already in his mind, he was limbering up for the 'soundworld' that he would create in that opera," Matthews continued.
Actor Samuel West will narrate the concert, titled Britten in Wartime, on 3 October. It will also be broadcast live on BBC Radio 3's Live in Concert from 19:30.
The concert will be conducted by the Halle's music director, Sir Mark Elder, at Manchester's Bridgewater Hall.