Michael Jackson family seeking $290m in damages from AEG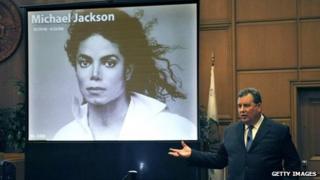 Michael Jackson's family are seeking $290 million (£181m) in personal damages from concert promoters AEG over his death in 2009, it has emerged.
The figure was revealed for the first time as the family's lawyer, Brian Panish, made closing arguments at the star's 21-week wrongful death trial.
Jurors were urged to award Jackson's mother Katherine $35m (£21.8m) and award a further $85m (£53.1m) to each of the singer's three children.
AEG denies any wrongdoing.
Michael Jackson died at the age of 50 from an overdose of the surgical anaesthetic propofol, ahead of a series of comeback concerts in London.
The Jackson family claim AEG Live failed to properly investigate Dr Conrad Murray - the former cardiologist who was convicted of involuntary manslaughter in 2011 - and missed warning signs about the singer's health.
Tuesday's closing arguments incorporated a video presentation documenting Jackson's career, from his humble beginnings in Gary, Indiana to his becoming the self-styled "King of Pop".
The video ended with a clip of the mournful 1993 ballad Gone Too Soon and Jackson's voice saying "I love you".
"That is the best evidence that Michael Jackson would have sold tickets," Brian Panish said about the star.
The issue of Jackson's potential earnings is crucial to the trial, as the family is seeking economic as well as personal damages.
Panish did not suggest a figure for the former, but reminded jurors of expert testimony that said the singer would have earned more than $1 billion (£625m), had he lived, from new music, tours, endorsements and a Las Vegas show.
'Shared responsibility'
The lawyer also spoke of the anguish of Michael's children, Prince, Paris and Blanket Jackson, over the loss of their father.
He was warned by Superior Court Judge Yvette Palazuelos that jurors were not to be swayed by sympathy in reaching their verdict.
"We're not looking for sympathy," Mr Panish said. "We're looking for justice. Not partial, but complete justice."
He also addressed the question of Jackson's culpability in his death.
"It's about shared responsibility," he said. "Michael probably has some fault.
"I'm not going to deny that Michael used prescription drugs and that people told him it's risky to use propofol."
However, he argued, Jackson would have lived had AEG not hired Dr Murray,
Panish portrayed AEG executives and Dr Murray as mercenaries who sacrificed the pop star's life in a quest to boost their own fortunes.
He said AEG Live decided to take the "risk" of not investigating Murray's background because they were anxious to launch Jackson's lucrative 50-date This Is It concert series.
"AEG wanted the King of Pop in their arena in London," he said. "They would do whatever it took to get him on stage.
"They were so excited about how much money they were going to make. They chose to run the risk, to make a huge profit, and they lost and they're responsible."
Jurors were shown emails suggesting it was AEG, not Jackson, who had hired Dr Murray.
One, written by AEG executive Paul Gongaware, talked about an upcoming meeting with the physician. "We want to remind him that it is AEG, not MJ [Michael Jackson] who is paying his salary," it read.
"We want him to understand what is expected of him."
A video of AEG Live's CEO Randy Phillips was also re-played, in which he told Sky News that Murray was "willing to leave his practice for a very large sum of money... so we hired him."
Further video footage showed AEG executives at Dr Murray's trial repeatedly saying "I don't remember" or "I can't recall", with Panish suggesting they were not credible witnesses.
Final rebuttals
A final video showed home movies of Jackson and his children celebrating birthdays and playing at his Neverland estate. The scenes ended with Paris's tearful tribute to her father at his memorial in June 2009.
Some of the fans who had crowded the courtroom rushed out in tears at the video's conclusion.
Panish urged jurors to act as the conscience of the community and award damages to Jackson's family.
Jackson's mother, Katherine, her daughter Rebbie and her nephews Taj and TJ sat in a front row as Panish delivered his remarks.
AEG's lawyers will make their own closing arguments on Wednesday, after which Panish will make final rebuttals and the jurors will retire to consider the case.
A unanimous verdict is not required, though nine of the 12 jurors must agree.
If they find that damages should be awarded, the judge said, they should not consider the wealth of either party nor the grief endured by the Jackson family.