Prince Charles Chinese portrait to be auctioned for charity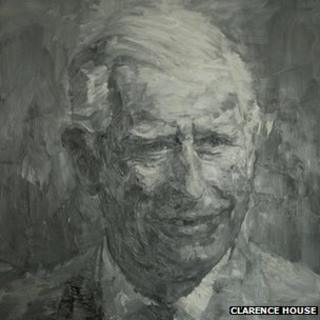 The first ever portrait of the Prince of Wales by a renowned Chinese artist has been unveiled by Sotheby's ahead of a charity sale next month.
Contemporary painter Yan Pei-Ming's portrait is expected to raise up to £300,000 at the auction on 16 October.
The proceeds will be split between The Prince's Drawing School and cancer charity the Mimi Foundation.
The Prince of Wales did not sit for the black and white portrait, which was based on photographs.
The piece was jointly commissioned by Clarence House and art collector Myriam Ullens, who founded the Mimi Foundation after her own experiences with cancer.
It currently runs wellness centres for patients across Switzerland, France and Belgium.
The painting is typical of Shanghai born artist Yan Pei-Ming, who has gained international recognition for his large, monochromatic portraits.
"The portrait reveals the feeling of our time," said Pei-Ming. "It is a look into the human who I want to express as timeless, universal, eternal, through the use of black and white."
He continued: "Prince Charles represents one of the greatest dynasties in Europe and, at the same time, through him, the pictorial, the written, the expression becomes the very subject of the painting."
It will be unveiled to the public at a Sotheby's auction preview on Saturday, 12 October.
The portrait will be auctioned alongside major donations by leading artists such as Tracey Emin and Antony Gormley, which are expected to raise a total of more than £1 million for the Mimi Foundation.
Ullens, who is a long-time supporter of young Chinese artists said: "Having worked with Yan Pei Ming for many years, this portrait represents the culmination of his career so far.
"I'm delighted that such a fantastic collaboration has been realised in honour and support of those fighting cancer."
The 32 other works will be sold across two sales taking place during the week of the Frieze London art fair.