Dexter finale draws record ratings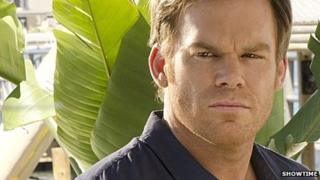 A record number of viewers tuned in to watch the final episode of US serial killer drama Dexter.
Some 2.8 million people tuned in to see the highly anticipated series eight finale, despite being broadcast at the same time as the Emmy Awards.
The figure gave cable network Showtime its highest-ever rating for an original series.
However reviews for the episode were mixed, with one calling it the "lamest series finale since Seinfeld".
"If only the producers had dispatched their show with the care their murderous hero showered on his victims," AP's Frazer Moore said.
Den Of Geek's Billy Grifter said it was "a final figurative nail in the coffin of this once great creative endeavour".
"The final part of the Dexter narrative revealed that the writers had drawn a blank in how to end the show dramatically, and... the creative cupboard was utterly bare.
"It might not have gone out on a high, but it's certainly a show that people will talk about for years to come, even if only as a stern warning to writers about when it's best to conclude a successful show."
However Entertainment Weekly hailed it as "the best Dexter episode in years".
"Given the episodes we've seen, especially in recent weeks, I was surprised that this finale was this polished and effective," James Hibberd said.
"The people who really, really love Dexter probably enjoyed this episode," Cory Barker wrote on TV.com.
"For those of us who've been disappointed with the final season, the series finale didn't take the show down any further into the depths of awful television."
Across series eight, Dexter's ratings grew 13% from the season premiere, breaking its own ratings record each week.
According to Showtime, the series averaged 6.4 million weekly viewers across all platforms - including repeats, streaming services and catch-up TV - compared to season seven which averaged 6.1 million.
The final episode will be broadcast in the UK at 21:00 on Sunday, 29 September on Fox.