Science Museum opens art archive in Media Space
By Keily Smith
BBC News entertainment reporter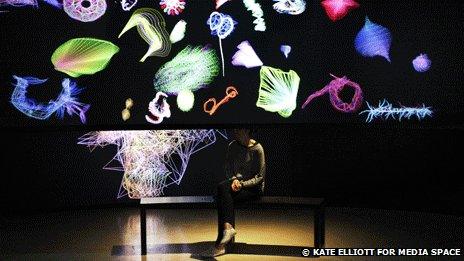 The Science Museum has launched a photography and art gallery to show off its extensive collection that has been largely hidden.
The £4.5m project is a collaboration between the Science Museum and the National Media Museum in Bradford.
"We have done a good job at hiding our collection but now expect us to be shameless in getting it out there and unleashed," said director of the Science Museum Group, Ian Blatchford.
The Media Space opens on 21 September.
Mr Blatchford said there was a definite correlation between art and science and said Vivienne Westwood had put it best in a speech she gave at the museum.
"When people say what do scientists have in common with artists, she said 'basically there are two types of people in the world and the thing about great artists and great scientists is that they have great imagination - they can see the world differently', and so that's why having great artists here is very valuable," he said.
The Media Space is running two very different exhibitions for its launch: one featuring the work of respected photographers Tony Ray-Jones and Martin Parr, and the other a digital installation using the latest techniques and user interactivity.
Only in England features well known and previously unseen photographs by Ray-Jones, a British photographer who examined the eccentricity of English life in his work before his death at the age of 30 in 1972.
"He embarked on a project to photograph the English and what he wanted was to capture, what for him, distilled Englishness and that was eccentricity, something which he recognised in himself," said curator Greg Hobson.
"He set off in a camper van travelling around the country with [wife] Anna Ray-Jones."
Many of the photographs feature beach scenes and the typical English idea of "a great day out".
Speaking at the launch, Ms Ray-Jones said: "The beaches are where the English go to be grim and happy and it is a whole theatre in itself, because rain or shine people are going to have that holiday.
"I think that from photographs - even from today - there is a sense of 'we are here and we are going to be happy'. That scenario has not left us at all."
Alongside these is the early work of Martin Parr, a Magnum photographer, who was inspired by Ray-Jones for his work The Non-Conformists, which were taken in and around Hebden Bridge in the 1970s.
Parr was also given access to the Ray-Jones archive, held by the National Media Museum in Bradford, and invited to pick his own favourites from 2,700 negatives and contact sheets to print and show off alongside his own work.
While Only In England very much looks to the past, Universal Everything & You is a forward-looking digital installation that harnesses technology to create both a living sculpture for viewers to immerse themselves in and an interactive element that allows the visitor to create part of the art by using a smart phone app.
The audio visual artwork has been created by Universal Everything, a collective founded by Matt Pyke in 2004.
One part, called 1000 Hands, encourages visitors to create a simple line drawing using a free app, which is then evolved into a "pulsing, mutating animated creature", which is transferred onto multiple circular screens.
Alongside this is Presence, again projected onto circular screens in a dimly lit studio as a 24-minute digital presentation.
Two dancers from the Benjamin Millepied LA Dance Project were attached with motion sensors and filmed as they performed to music composed by Simon Pyke, Matt's brother and collaborator.
The dancers were then given "digital costumes" and their movements transformed into pulsing lines, with the music fitting both 1000 Hands and Presence.
Matt Pyke said he work was "somewhere between my background in drawing at art school fused with Hollywood visual effects software to create something far more abstract, emotive and beautiful to the traditional things you would see in the cinema".
Hannah Redler, head of Media Space, said: "This was cleverly choreographed, because whenever we think about making an interactive work we do not want to make something interactive for the sake of it. We wanted there to be some sort of point to it.
"The collaborators kept responding to each others work to create what we see now which works as a really beautiful life size performance where the human form is discernable some times but sometimes indiscernible from a serious of complex procedural animations."
Only in England runs at the Science Museum until 16 March 2014. Universal Everything & You runs until 7 February 2014.
Related Internet Links
The BBC is not responsible for the content of external sites.