Sir Paul McCartney to play 6 Music sessions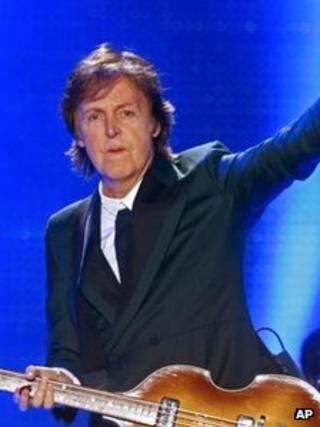 Sir Paul McCartney will join Polica, Goldfrapp, Manic Street Preachers and Sigur Ros at this year's 6 Music Live at Maida Vale in October.
Lauren Laverne will host the annual live music sessions from Monday 14 to Friday 18 October.
Jeff Smith, head of music for 6 Music, said: "To have such a diverse line-up including the world's most-loved singer songwriter is a dream come true."
Tickets, available on the 6 Music website, are free.
Registration will be open until 19:00 BST on Friday 27 September.
US band Polica, who rose to prominence last year, will kick off the sessions on the first day. Tuesday will see Goldfrapp perform, while Sir Paul will play on Wednesday. Manic Street Preachers and Sigur Ros - in their first ever live session for 6 Music - will close out the week.
"A line-up of this calibre and range is one you'll only find on 6 Music," said Laverne, who announced the line-up on Friday.
"You can imagine how excited we are about this," she said, referring to Sir Paul's return to the famous studios where he played with The Beatles. "There is nobody bigger and nobody better."
"What a tiny intimate place to see Paul McCartney playing live. And he's always brilliant live, of course - he's Paul McCartney"
Sir Paul's latest album, New, is due out on 15 October with 12 tracks of unreleased material.