Jerry Bruckheimer and Disney part company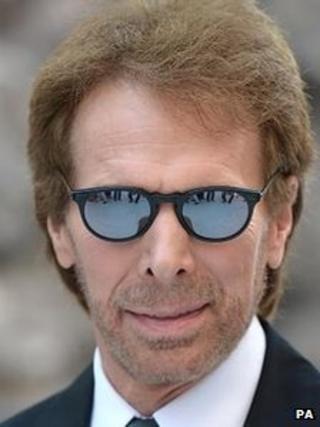 Pirates of the Caribbean producer Jerry Bruckheimer is to split with Disney.
The studio will end its first-look deal with Bruckheimer in 2014, bringing to a close a partnership that has produced both the Pirates and National Treasure franchises, as well as hits such as Armageddon and The Rock.
Disney faces losses of $190m (£118m) following the recent box office failure of Bruckheimer's The Lone Ranger.
But the producer insisted: "It's not about Lone Ranger."
"It's time for us to tackle all kinds of movies, not just Disney movies," Bruckheimer told The Hollywood Reporter.
"We're still working on Pirates and hopefully National Treasure, and we still have development at Disney."
The Pirates franchise has earned more than $5.4bn (£3.4bn) worldwide for Disney.
"Jerry is one of the most respected and prolific producers working in the motion picture industry, and we have had an incredibly successful collaboration over the past two decades. He is a friend to many of us here at Disney," said Alan Horn, chairman of Disney Studios.
"We will continue to work together in the future, and we look forward to seeing more of the films that have made Jerry Bruckheimer a Hollywood legend," he added, confirming the fifth instalment of Pirates of the Caribbean will still go ahead.
The sequel has reportedly been delayed due to script issues and concerns over budget. It is not expected to open before autumn 2015.
The Lone Ranger, starring Johnny Depp, reportedly cost $215m (£136m) to make and has grossed $243m (£154m) worldwide to date. At the domestic box office, it has brought in only $89m (£55m).
"This is about a long-term relationship with lots of pluses and minuses," Horn said.
"The Lone Ranger certainly didn't help things, but we all have our wins and our losses, and this is an overall thing related to the company's supply of projects from all these other places."
Bruckheimer, whose hits have included Top Gun, Con Air and the TV series CSI, has said he wants to return to "more mature films". He is currently working on sequels to Top Gun and Bad Boys.
He made his mark in the 1980s as a prolific producer, who worked in partnership with the late Don Simpson on films like Days of Thunder and the Beverly Hills Cop series.
"I am very appreciative of the wonderful collaboration and support I have had at The Walt Disney Company for over 20 years and the 27 movies we have made together," Bruckheimer said.
"As we continue to make adventure films, we look forward to returning to films like Black Hawk Down, Enemy of the State, Beverly Hills Cop and The Rock."