Taking theatre to the people in York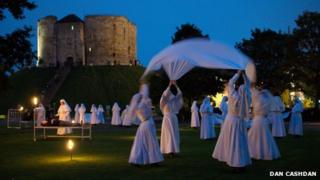 How do you get residents of a city to go to the theatre? Try taking the theatre to the city. That is the idea behind a play that will see a troupe of World War I nurses dancing in the streets of York.
"There's a guy who's just bought a herd of beef cattle."
Director Alan Lane is discussing some of the 180 locals who are in his new play, Blood and Chocolate.
"He's postponed taking ownership of the beef cattle to make sure that he can do the last show.
"There's another guy who's doing the Yorkshire Marathon on the morning of the last show," the director continues.
"He will come from the marathon, which he expects to do in about five hours, and then is going to come and do the show.
"There's another woman who has 12 grandchildren and four great-grandchildren, and she dances throughout the show.
"There's a five-year-old girl who's brilliant. There's also a woman who's a chief exec of something… I can't remember now."
The director is trying to prove that the cast of Blood and Chocolate come from every walk of life and are giving their all for this play.
Lane, artistic director of the Leeds-based Slung Low theatre group, has been thinking a lot about how to make theatre relevant in an age when the value of the arts is being questioned.
"I think it's about making it matter to people," he says. "It matters to these people. They give up an extraordinary amount of time.
"A few people are basically rehearsing, which is a full-time job, while also doing a full-time job.
"But more than that, the show takes place in their city. It doesn't take place in a room hidden away somewhere.
"It takes place right down the middle of their high street, where they might tomorrow be shopping."
For Blood and Chocolate, the 180 professional and community cast members and 600 volunteers in the crew are telling the story of York's chocolate factories, which sent a tin of chocolate to every soldier from the city during World War I.
The play has a script by Mike Kenny, who won an Olivier award for his adaptation of The Railway Children. Audience members will follow the action through the city centre while listening on cordless headphones.
Headphone-wearing crowds will become a regular sight in York over the 18-day run.
"There were people walking past the other night who saw 54 people dressed as nurses all rehearsing a dance," Lane says.
"We're part of their city. We're part of the fabric, not just offering a service. In order to do the show, we have to close a road for 20 minutes.
"That doesn't sound like very much but it's quite a bloody effort. So that belief and that responsibility are taken very seriously."
A co-production between Slung Low and York's Theatre Royal and Pilot Theatre, Blood and Chocolate is trying to build on the success of the 2012 York Mystery Plays, which were seen by 32,000 people and involved a 500-strong cast.
It comes as theatre companies across the country are having to think hard about what they are there for.
With funds from the government and local councils shrinking, there is pressure for theatres to do shows cheaper and better and prove their worth - artistically and economically - to residents and politicians.
Playwright Mark Ravenhill recently warned theatre-makers they should contemplate the possibility of the total withdrawal of public funding at some point in the future.
"Nobody is resting on their laurels," Lane says. "They know there are no laurels left. And the good news is, in some places that's making for some really exciting theatre."
The director takes inspiration from a recent campaign that proved people power can sway political decisions - the campaign to stop the sell-off of the nation's forests.
"The government couldn't take them away because people cared too much," Lane says. "That's what saved the forests.
"It wasn't because they could make more money, it was because people [care] about forests. They really like them. And I want people to really like theatre.
"But I think the first thing we have to do is get a fair reflection of society to see it."
Ticket prices are "ludicrous" and have to come down first, Lane admits. "It's too expensive to go to the theatre.
"When it costs four pints it's too much, and it costs much more than four pints."
(At £18 for an adult, Blood and Chocolate fails Lane's four-pint test. Visitors to Slung Low's regular Leeds headquarters, however, can decide how much to pay after each show.)
Lower prices may help theatre shake off its image as a luxury pastime for certain people, Lane believes.
"I watch an awful lot of theatre and the audiences do not reflect the societies we're working in, in terms of income brackets and ages," he says.
"Our towns and cities are full of very different types of people, and our audiences are not full of those different types of people.
"We're working with many different types of people [on Blood and Chocolate]. Those people will bring their friends to the show, and I'm hoping the audience will reflect that as well."
Blood and Chocolate runs in York from 3 to 20 October.