Ricky Gervais confirms David Brent to play live gigs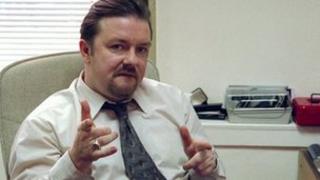 Award-winning actor and comedian Ricky Gervais is to perform a series of live gigs as his character in The Office, middle manager David Brent.
The star told fans on Twitter he would play a "couple of very cheap, very low key warm up gigs" in London in October.
He will play alongside Foregone Conclusion - his fictional band in the hit BBC comedy series.
Gervais recently created a series of videos around the character on YouTube called Learn Guitar With David Brent.
The videos feature Brent, who was an aspiring musician in the TV series, showing viewers how to play a series of original songs and his signature song from the show, Free Love Freeway.
The online videos mark the first time fans have had a chance to see the character in a long-running series since The Office ended in 2003.
Gervais revived Brent in 2011 for a cameo in the US version of the show and was last seen on British TV in a Comic Relief sketch earlier this year.
The character was known for his love of playing the acoustic guitar, but not his musical talent.
However Gervais recently revealed a number of major record labels had offered him the chance to record an album as the former manager of Slough paper merchants Wernham Hogg.
"I can't believe I'm getting ridiculous offers from major record companies all over the world for a David Brent album," Gervais said.
"Where were these people when I was trying to be a real popster? And starving?"