Joseph Rykwert awarded Riba Royal Gold Medal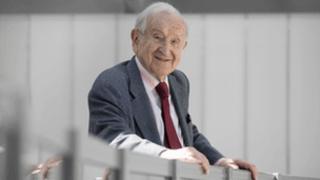 Architecture critic and historian Joseph Rykwert is to receive the 2014 Riba Royal Gold Medal, one of the world's most prestigious architecture awards.
The medal is given in recognition of a lifetime's work by the Royal Institute of British Architects and is personally approved by the Queen.
Rykwert is a world-leading authority on the history of art and architecture.
He said he felt "both elated and enormously grateful" for the award.
He called the medal "a wonderful gift" which "adds weight and authority to my words to which they could never otherwise pretend".
"What makes the gift doubly precious is that it does not come from my fellow-scriveners, but from architects and builders - and suggests that what I have written has engaged their attention and been of use, even though I have never sought to be impartial but have taken sides, sometimes combatively," he said.
In announcing the news, Riba said Rykwert's "groundbreaking ideas and work have had a major impact on the thinking of architects and designers since the 1960s and continue to do so to this day".
'Long overdue'
Riba president Stephen Hodder said Rykwert's recognition was "long overdue".
"That it has gone to a man whose writings have provided inspiration to so many who practice in the heart of our cities, gives me particular personal pleasure", he said.
"Joseph's writing and teaching are rare in that he can deliver the most profound thinking on architecture in an accessible way. All our lives are the richer for it."
Rykwert's 1963 book The Idea of a Town is considered a pivotal text on understanding why and how cities were and can be formed.
His other books, including The Necessity of Artifice (1982) and The Seduction of Place (2002), have also been credited with changing the way architects and planners think about cities and buildings.
Rykwert has lectured or taught at most of the world's major schools of architecture. He is currently Paul Philippe Cret Professor of Architecture Emeritus at the University of Pennsylvania.
He will be presented with the 2014 Royal Gold Medal at a special event in London on 25 February 2014.