Classic Brits to honour Pavarotti with posthumous award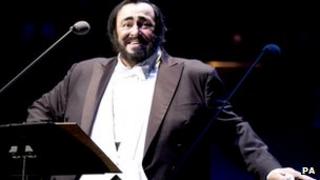 Opera star Luciano Pavarotti is to be given a posthumous honour at the Classic Brit Awards.
He was offered the lifetime achievement award six years ago in 2007 but died later that year before it could be presented to him.
His widow Nicoletta Mantovani-Pavarotti will collect the award on his behalf at next month's ceremony.
The Italian tenor, who became one of the most successful opera stars of all time, died of pancreatic cancer.
The awards take place in central London on 2 October.
Mantovani-Pavarotti said: "It is wonderful that the music industry is honouring Luciano in this way, particularly at a time when we are celebrating the 50th anniversary of his first recording.
"It is beautiful that the Classic Brit Awards are helping to keep his memory alive through honouring him in this way."
According to Brits organisers, the award is given to "artists that have truly made an impact on the world with their music and performances".
La Boheme
Oscar-winning composer Hans Zimmer is to be given the outstanding contribution to music award at this year's Classic Brits.
There will also be a debut performance by Gareth Malone's Voices, the choirmaster's latest ensemble, who will sing an arrangement of the theme tune to ITV drama Broadchurch.
Other performers include violinist Nicola Benedetti, pianist Lang Lang and composer and pianist Ludovico Einaudi.
Pavarotti became a worldwide star with his performances as part of the Three Tenors and went on to enjoy huge commercial success.
His fellow tenors - Placido Domingo and Jose Carreras - picked up Classic Brit lifetime achievement awards in 2006 and 2009.
Pavarotti's first ever recording is being released 50 years after he made his British TV debut.
The recording, an aria from Puccini's La Boheme, was unearthed by his widow and re-mastered for release.
Pavarotti's recording of Che Gelida Manina, which translates as Your Tiny Hand Is Frozen, had remained unheard in his personal archives for five decades.
It is being released by Decca Records as part of an album of 50 of his best tracks, including Nessun Dorma, which became famous after being used in the coverage of the 1990 Italy World Cup.