The Duck House: MPs' expenses satire heads for West End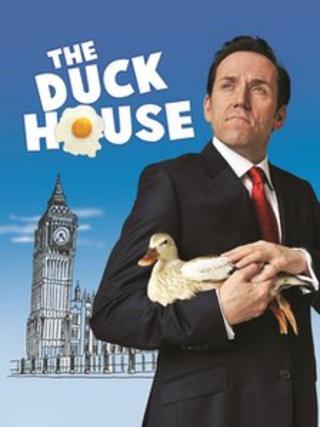 Ben Miller is to play a dodgy politician in a new political satire about the MPs' expenses scandal.
The Duck House will open in the West End in December following a five-week UK tour.
"They say that comedy equals tragedy plus time, and traumatic as the expense scandal was hopefully we can all now have a bloody good laugh about it," said Miller.
"And if any MPs don't like it they can always claim for it on expenses."
Miller's recent theatre credits include being part of the original cast of The Ladykillers, while TV appearances include Death in Paradise and The Armstrong and Miller Show.
The play also stars Olivier Award-winning actress Nancy Carroll and X Factor star Diana Vickers.
The story begins in May 2009, with Labour's Gordon Brown as prime minister and a general election one year away.
Miller plays Labour backbencher Robert Houston who switches sides to the Tories to save his seat. But as the MPs' expenses scandal breaks his switch from red to blue fails to go as planned.
The play's title is a reference to the floating ornamental duck island which became became emblematic of the MPs' expenses scandal in 2009.
Conservative MP Sir Peter Viggers retired after it was revealed he had claimed £1,645 for the item.
The long-serving MP for Gosport in Hampshire described himself as "ashamed and humiliated" by his claim, which was rejected by the Commons authorities. The duck house was later sold for charity.
The play's authors, Dan Patterson and Colin Swash, are no strangers to political comedy.
Patterson created Whose Line Is It Anyway? and has produced Mock The Week, while Swash has written jokes for more than 40 series of Have I Got News For You and is a regular contributor for Private Eye.
"Between the two of us we have written topical jokes for TV for over 50 years, but there aren't usually enough on one subject to make a play," they said. "MPs' expenses were - as the MPs also found - the gift that keeps on giving."
The Duck House, directed by Terry Johnson, opens at the Vaudeville Theatre on 10 December, following a UK tour that begins at Guildford's Yvonne Arnaud Theatre on 23 October.