British director Steve McQueen takes People's Choice award at Toronto Festival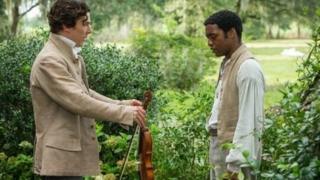 Steve McQueen's 12 Years a Slave has staked its claim to Oscar glory by winning the People's Choice award at the Toronto International Film Festival.
The historical drama, about a free black man kidnapped and sold into slavery, is already considered a leading contender to win the Academy's best picture prize on 2 March.
In a message sent from Amsterdam, its British director said it was "a fantastic honour" and that he was "deeply grateful".
Recipients of the festival's audience-voted accolade have previously gone on to enjoy recognition at other awards events.
Slumdog Millionaire and The King's Speech are among recent People's Choice winners that have subsequently won the Academy's best picture prize.
Last year's victor, Silver Linings Playbook, was nominated for best picture and saw its leading lady Jennifer Lawrence named best actress.
"At a festival that has shown so many brilliant films, I cannot be more thrilled to receive this award," said McQueen.
"I'd like to thank the Toronto audience who have supported my work ever since I was fortunate enough to show my first film there."
The film 12 Years a Slave has been receiving rave reviews ever since its first screening at the Telluride Film Festival in Colorado on 30 August.
Its Toronto gala one week later was attended by many of the film's stars, among them Chiwetel Ejiofor, Michael Fassbender, Benedict Cumberbatch and Brad Pitt.
Winner of the Turner Prize in 1999, London-born McQueen previously directed the films Hunger and Shame.
'Wonderful award'
Stephen Frears' fact-based drama, Philomena, starring Dame Judi Dench as an Irish Catholic seeking her long-lost son, was named first runner-up on Sunday.
Prisoners, starring Hugh Jackman as a father seeking his missing daughter, was named second runner up.
The People's Choice documentary award went to The Square, a record of the protests that have been taking place in Cairo's Tahrir Square since 2011.
Its Egyptian director, Jehane Noujaim, told the BBC that the honour was "a wonderful award for the film to win".
"This is the only kind of award that really means anything to the team back in Cairo and to everybody who's been fighting on the streets," she continued.
"To understand that people internationally care about the struggle and relate to it is crucially important."
The documentary also won an audience award at the Sundance Film Festival in January and will play at the New York Film Festival next month.
Its producer Karim Amer said the film had yet to secure UK distribution but that its makers were "fighting to get it out there properly".
A third People's Choice award for titles in the festival's Midnight Madness strand went to the Japanese film Why Don't You Play in Hell?
Oculus, a horror film starring former Doctor Who actress Karen Gillan, was named the first runner-up.
A host of international stars have been seen in Toronto since the festival kicked off 11 days ago.
The event has also seen a flurry of sales activity, with Keira Knightley's Can a Song Save Your Life? and Colin Firth's The Railway Man among those to lock up distribution deals.
"The vibrant film sales that take place each year in Toronto are testament to the strength of the industry overall," said artistic director Cameron Bailey.
"It is [this that] attracts territories from around the globe to make this festival part of the main agenda."
The next Toronto International Film Festival will run from 4 to 14 September 2014.