Toronto 2013: Elmore Leonard's death 'a cruel joke'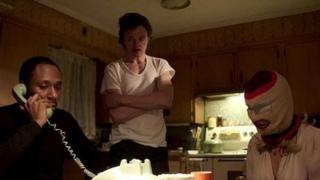 The recent death of US crime writer Elmore Leonard was "a cruel joke", according to the makers of a new film based on his 1978 novel, The Switch.
"He didn't get a chance to see the film which crushed me," said Daniel Schechter, director of Life of Crime.
The abduction-themed comedy brought the Toronto International Film Festival (TIFF) to a close on Saturday.
Speaking before the screening, its star Jennifer Aniston said getting involved in the project had been "a no-brainer".
"It was such a different role from the ones that usually come to me," said the former Friends actress.
Set in the 1970s, Life of Crime tells of two ex-cons in Detroit - John Hawkes and Yasiin Bey (better known as rapper Mos Def) - who kidnap a wife of a wealthy businessman and demand a ransom.
What they do not know is that Frank (Tim Robbins) has a secret mistress (Isla Fisher) and has no desire to get his spouse back.
Leonard, who died in August aged 87, is credited as an executive producer on the movie, the latest in a number of films and TV shows inspired by his prose.
"It was just a matter of begging him to let me do it," said Schechter. "He saw potential in it, and potential in me."
"Elmore read the script and said it was the best adaptation after Scott Frank['s Out of Sight] and Quentin Tarantino['s Jackie Brown]," said producer Lee Stollman.
The novelist was so impressed he gave Schechter a "free option" - accepting no money for the rights to his book - which, Stollman noted, "is almost unheard of in this business".
"It's a great shame he's not here."
According to Schechter, Leonard had asked to see the film but had been persuaded to wait until its music and sound had been finalised.
"Like a cruel joke, he had a heart attack and passed away two weeks later," the film-maker told reporters.
"But he heard the film got into TIFF, so it's nice that he knew to some extent it was getting some love."
Film fans came out in force to see Aniston walk the red carpet at Saturday's world premiere.
The 44-year-old was joined in Toronto by Robbins, their co-stars Will Forte and Mark Boone Junior and her fiance, Justin Theroux.
According to the actress, her "wonderfully written" character in Life of Crime was indicative of the kind of roles she was currently being offered.
"I feel I'm having a lot more fun playing characters I can disappear into more," said Aniston, who was recently seen as a stripper in the comedy We're the Millers.
"For me it feels like a wonderful second act. We all have it in us; it's just a matter of getting the opportunity."
Asked how she dealt with her character being forced to wear a mask for long stretches of the story, the actress said it had been "quite suffocating" but nonetheless helpful.
"You have nothing to play except what's in your heart and the terrifying situation you're in," she elaborated. "It was freeing, actually."
Aniston expressed similar equanimity when asked whether she saw any parallels between her character's plight and her own life as a celebrity.
"There are times that you can feel a prisoner to certain things in the business," she said. "But we've chosen it, so you learn to love it."
Sunday is the final day of the Toronto International Film Festival and will see the presentation of its 2013 awards.
Among the prizes set to be announced is the People's Choice award, given to the film most favoured by TIFF audiences.