How do you make history into great drama?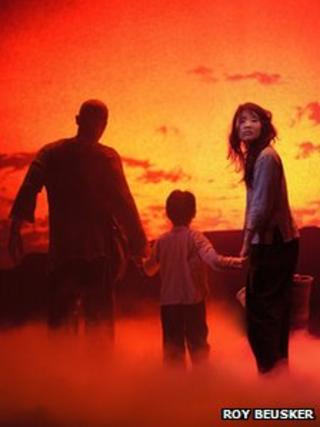 Last week, the musical Miss Saigon - set against the backdrop of the Vietnam war - set a new box office record, taking £4.4m on the first day of ticket sales for its West End return. When it opens next year, it will join dozens of other historical plays in production up and down the country. What's the big attraction?
"All the world's a stage," to quote the Bard.
Ever since Shakespeare's day - and perhaps earlier - playwrights have been setting dramas against the backdrop of real historical events.
Macbeth, of course, occurs amid the 11th Century intrigue of the court of King Duncan I of Scotland.
"There are always plays exploring contemporary society and its ills," says Kate Dorney, curator of modern and contemporary theatre at the Victoria and Albert museum.
"Musicals can comment more obliquely. For example Les Miserables is about poverty - but people don't go to see it as a searing indictment of capitalism."
In 1958, John Arden wrote Serjeant Musgrave's Dance after reading about an incident where British soldiers killed five innocent people in a raid on a Cypriot village during the Eoka uprising, which sought independence from Britain.
Dr Dorney says the play - which ends with soldiers firing a cannon at the audience - was a "famous flop", but has since been reappraised as a classic.
In the 1960s and 70s playwrights and theatre producers and directors, especially in the subsidised sector, continued to push the envelope.
In 1980, director Michael Bogdanov found himself in court over the play The Romans In Britain at the National Theatre.
The drama juxtaposed the Roman occupation of Britain with British soldiers' deployment in Northern Ireland - but a male rape scene led to a private prosecution by campaigner Mary Whitehouse, which ultimately failed.
Up and down the country plays are being staged or planned, based on events from history - from Les Miserables and Chimerica in the West End, to Sizwe Banzi Is Dead, set in apartheid-era South Africa, at the Young Vic and The Day We Played Brazil, about Exeter City's 1914 tour of South America, at the Northcott Theatre in Exeter.
The Royal Shakespeare Company is in the process of dramatising Hilary Mantel's books Wolf Hall and Bring Up the Bodies, which chart the rise and fall of Thomas Cromwell, a powerful minister in the court of Henry VIII.
"Is that about the history or about the huge success of the books?" asks West End producer Joe Smith.
"We have a fascination with the domestic side of history. We know who the kings and queens were but we want to know about what happened when they shut the door."
Players
Next month a play opens at the Trafalgar Studios in London based on the aftermath of the Turkish invasion of Cyprus in 1974.
James Phillips, the writer and director of Hidden In The Sand, says: "It's a love story, interwoven with politics. It's about losing your country and about losing people - 1,600 people went missing after the invasion. It's about how politics affect people but it does not take a political agenda."
Phillips has form in the genre. In 2005, he wrote the critically-acclaimed play The Rubenstein Kiss, loosely based on the case of US nuclear spies Julius and Ethel Rosenberg.
That play, like Julius Caesar and Frost/Nixon, focuses on key players who "insert themselves into history", he says.
Others, including Miss Saigon, Les Miserables and Hidden In The Sand, dwell more on individuals swept up in the tide of history and how they "deal with it".
Daphne Alexander, who stars in Hidden In The Sand and is of Greek Cypriot origin, says historical plays are fascinating.
"You can excavate facts from previous times and you can revisit them both as the audience and the actors. When you look at history as an observer it's hard to imagine yourself in them - but you look at it in a different way in a play."
But sometimes those involved in an historical event take umbrage.
In July a survivor of the 1966 Aberfan disaster - where tonnes of muddy coal mining waste slid down a hillside in a Welsh valley and onto a school, killing 144 people - called for a play based on the tragedy to be cancelled.
Bernard Thomas, who lost two relatives, said survivors had not been consulted about Children Of Mine - but the writer and director Mark Jermin said the play, which ran at the Edinburgh Festival Fringe, was a "fitting tribute".
In 2011, the mother of murdered sex worker Tania Nicol objected to London Road, a musical at the National Theatre by Alecky Blythe which focused on the murders perpetrated by Ipswich serial killer Steve Wright.
Local MP Ben Gummer agreed: "There's always a time and a place for artists to look at difficult and tragic issues but sometimes that is decades or hundreds of years after the event."
Mr Gummer's words have an echo in the story of The King's Speech.
The playwright David Seidler began work on the script in the 1970s but shelved it after the Queen Mother asked him not to pursue it during her lifetime.
After she died in 2002 he dusted it off the script and was set to turn it into a West End play. But then, in 2007, film director Tom Hooper got wind of it and decided to make it into an film, which went on to win four Oscars, including one for Siedler's screenplay.
The stage version eventually came out in 2012 - but, perhaps because of the film's success, it closed after only two months.
So what are the boundaries of taste when it comes to portraying factual events?
In the Tony Award-winning play The Producers, two theatrical producers in 1959 New York come up with an elaborate scam to fleece their investors.
But their crass musical - Springtime for Hitler, set in Nazi Germany - turns out to be a big success, thwarting their plans.
So if Springtime for Hitler, or something equally uncomfortable, was ever produced how would an audience react?
West End theatre producer Joe Smith says: "If they are witty and funny like Jerry Springer: The Opera, they can get away with it.
"The Book of Mormon can offend a lot of people but, because it is done with wit and pace, it works and although there is blue language, the fact that it is a musical means it transcends reality."
As for Miss Saigon, he says: "Because it hasn't been on for 15 years there is a massive audience who have never seen it and there is a massive audience who want to see it again."