Ofcom 'should not govern' BBC, says regulator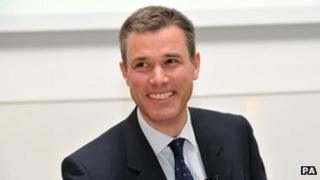 The chief executive of Ofcom has said the regulator should not take over governance of the BBC or act as the custodian of the licence fee.
Ed Richards said while it would be "comparatively easy" to take over regulation from the BBC Trust, it was a matter for the government to decide.
He was speaking following calls for the BBC Trust to be axed.
The trust has been criticised over its handling of a number of controversies, including BBC severance pay.
On Monday, seven former and current BBC bosses were grilled by members of the Public Accounts Committee about their handling of large pay-offs.
'Easy to do'
It has since led to calls from politicians and industry figures, including former chair of the BBC board of governors, Sir Christopher Bland, to hand over regulation of the corporation to Ofcom, which currently regulates the BBC's output on matters of harm and offence.
Speaking at the Royal Television Society convention in Cambridge earlier this week, Culture Secretary Maria Miller said criticism of the BBC Trust was similar to that previously aimed at BBC governors, which it replaced in 2007.
"This criticism focused on insufficient independence and a lack of clarity over the separation of roles. Does that sound familiar?" she said.
Speaking on Thursday, Mr Richards added: "Clearly we could [regulate the BBC], it would be comparatively easy to do.
"We have a very established broadcasting regulatory operation, and compared to taking on the regulation of the Royal Mail, in context of privatisation, or conducting a major auction, it would be comparatively easy.
"But that is a very different question to whether we should. Whether we should or not is a matter for government, and ultimately for parliament," he said.
Mr Richards said issues around governance of the BBC needed to be looked into as well as "the culture at the top of the organisation, which is a different matter again.
"I certainly don't think we should be governing the BBC. We need to have an entity that is responsible for the BBC and is the custodian of the licence fee. I don't think that should be the regulator."
He added that Ofcom's budget had fallen by 26.7% in real terms over the last two-and-a-half years, which "by the standards of the public sector that's not bad going.
"But it means we have less resources and we have to be careful about taking on extra work," he added.
"I have never sought more responsibilities. We have had more responsibilities given to us over the last few years."
The BBC paid £25m to 150 outgoing executives - £2m more than their contracts stipulated - between 2009 and 2012.
Earlier this week, the chairman of the BBC Trust, Lord Patten cast doubt on Ofcom taking over regulation of the corporation, saying: "I can't imagine handing the regulatory power to Ofcom and Ofcom wanting to be involved in remuneration."