X Factor USA suffers worst ratings ever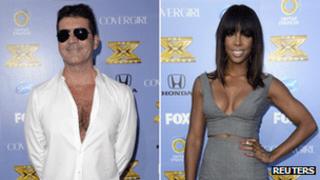 The return of the X Factor USA has been beaten in the TV ratings by Big Brother as its audience figures drop to an all-time low.
Wednesday's episode on the Fox network drew 6.2 million viewers, compared with 6.7 million for Big Brother on CBS, according to figures.
The first episode of the X Factor pulled in 12.1 million people in 2011.
Season three saw new judges Kelly Rowland and Paulina Rubio join the returning Demi Lovato and Simon Cowell.
The X Factor aired for one hour on Wednesday, compared to its typical two hours in previous seasons.
The final of MasterChef, which followed the X Factor on Fox at 21:00, also drew 6.2 million viewers. According to the industry magazine, Variety, that represented a rise on previous weeks.
Cowell announced in October that the X Factor would be returning for a third season.
The decision by TV bosses in America surprised many as viewing figures have continued to fall since the show began in 2011.
The UK version of the show, which returned to ITV on Saturday 31 August, enjoyed an average audience of 9.2 million.
Part two of the show, broadcast on Sunday night, was watched by more viewers, averaging 9.9 million.
Last year's opener fell to 8.7 million, down on the 12 million of 2011.