Toronto 2013: Gone but not forgotten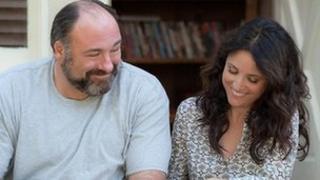 How do you promote a movie that has just lost one of its stars? It's a dilemma faced by more than one attendee at this year's Toronto International Film Festival.
I'm in a hotel suite in downtown Toronto, waiting with 15 other reporters for the director and stars of a new romantic comedy.
We're sat on chairs around a round table, each of us with questions prepared and topics we'd like to raise.
It's one of hundreds, perhaps thousands such gatherings that have taken place in the city over the past eight days.
Unlike many, though, there is an elephant in the room - the death of one of the movie's leads between the time it completed shooting and its world premiere.
Enough Said is one of the last films to be completed by the actor James Gandolfini, who died suddenly in June following a heart attack in Italy.
The one-time Sopranos star is cast against type as Albert, a divorced man who starts seeing a divorced masseuse.
The situation is complicated when Eva (Julia Louis-Dreyfus) takes on a new client whom she eventually realises is Albert's ex.
Marianne (Catherine Keener) has little good to say about her former husband, criticisms that undermine Eva's own relationship with her oblivious new beau.
References are made throughout to Albert's weight, girth and eating habits that may take on an additional resonance for viewers now.
According to Variety's review of the film, Gandolfini "gamely embraces a character whose unhealthy diet and sizeable gut are regular subjects of conversation".
The actor's absence has been keenly felt in Toronto, not least because his visage features so prominently on his film's promotional materials.
And so, it is not long before the line of questioning turns to how the tragic news was broken to each of them.
Louis-Dreyfus says she initially thought it was "a joke".
"Not a joke, that sounds really crass," she adds immediately. "I couldn't believe it - I didn't believe it."
'Teddy bear'
Writer-director Nicole Holofcener, meanwhile, was told the news by her producer, who had suspected at first that it might have been a hoax.
"It was really early, but immediately it was confirmed that it was no hoax," she sighs.
The talk turns to the interviewees' memories of the deceased, which gives Australian actress Toni Collette a chance to lighten the mood.
"He was great!" she says of her "teddy bear" colleague. "I was so excited to work with him.
"He was sweet, you know? Not many bears are sweet."
For Keener, though, it is difficult to sum up a cherished working relationship in a few media-friendly sound-bites.
"I have a lot of fun memories," she says with a rueful smile. "I just have a hard time talking about them."
"I was honoured and blessed to work with him," says Holofcener. "And he said he was a fan of mine, which just killed me."
When asked whether her film might be an epitaph of sorts to Gandolfini's talents, however, the New York-based director becomes stern.
"I feel that's too grandiose," she answers firmly. "This is an actor playing a part in a movie.
"His kids lost their dad; this is just a movie," she goes on. "I don't feel comfortable with that kind of burden."
The situation faced by the Enough Said team is not an isolated one. Two other films at this year's event feature the late Glee cast member Cory Monteith.
And then there is Life of Crime, an adaptation of an Elmore Leonard novel that will close the festival less than a month on from the prolific author's death.
Under these circumstances, it is perhaps ironic that the 2013 festival has chosen to celebrate a film whose very title is a sombre euphemism.
That film is The Big Chill, the tale of seven former college friends brought back together… by a funeral.
Enough Said is out in the UK on 18 October.