Morrissey pulls his autobiography days before release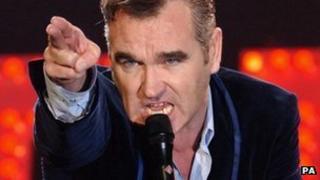 Former Smiths frontman Morrissey has halted plans to release his autobiography, three days before it was due to be published.
The memoirs were set to give details about the 54-year-old's life growing up in Manchester and his relationship with former songwriting partner Johnny Marr.
But a statement on his fan website said there had been a "last minute content disagreement" with its publisher.
A Penguin Books spokeswoman said there would be no comment on the issue.
"Although Morrissey's autobiography was set to be available throughout the UK on September 16th, a last-minute content disagreement between Penguin Books and Morrissey has caused the venture to collapse," the statement said.
"No review copies were printed and Morrissey is now in search of a new publisher."
It is the latest setback for the singer, who suffered a series of what he referred to as "medical mishaps" which led to him cancelling his US tour earlier this year.
He was also forced to cancel part of his South American tour in July due, he said, to a "lack of funding".