Poet Philip Levine wins $100,000 for entire body of work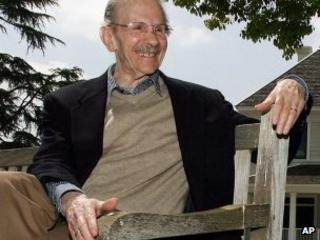 Pulitzer Prize-winner Philip Levine has received a $100,000 ($63,000) lifetime achievement prize from the American Academy of Poets.
The 85-year-old former US poet laureate was awarded the Wallace Stevens Award for "outstanding and proven mastery in the art of poetry".
Levine is best known for his detailed portraits of working class Detroit.
His poetry collections include Not This Pig, What Work Is and News of the World.
The academy also awarded Patricia Smith's Shoulda Been Jimi Savannah the Lenore Marshall prize - worth $25,000 (£16,000) - for the best book of poetry in 2012.
While Carolyn Forche received a $25,000 fellowship for "distinguished poetic achievement", and John Taylor won a translation award and fellowship for his English translation of poems by Italian Lorenzo Calogero.
Born in Detroit, Michigan, Levine worked a number of industrial jobs, including some work at a Chevrolet car factory, where he read and wrote poems between shifts.
He studied at the University of Iowa, where he earned a master of fine arts degree, but it was not until 1963 that he published his debut collection of poems, On The Edge.
He taught for many years at California State University until his retirement in 1992 and also served as the distinguished poet-in-residence for the Creative Writing Program at New York University.
He was awarded the Pulitzer Prize for poetry in 1995 for his collection, The Simple Truth and in 2011, was named the 18th US poet laureate by the Library of Congress.