Shirley MacLaine and Billy Joel to be honoured by Kennedy Center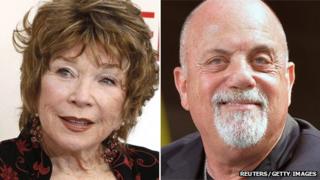 Oscar-winning actress Shirley MacLaine, singer Billy Joel and jazz composer Herbie Hancock are among the recipients of this year's Kennedy Center Honors.
Rock guitarist Carlos Santana and opera singer Martina Arroyo will also be recognised at a ceremony on 8 December.
President Barack Obama will host the event at the John F Kennedy Center for Performing Arts in Washington.
The honours, created in 1978, recognise the lifetime contributions of performing artists to American culture.
MacLaine, who won an Oscar for her supporting role in the 1983 comedy-drama Terms of Endearment and is currently starring in hit ITV drama Downton Abbey, said the award was a "global kid of recognition".
"The people who get these awards are contributing to the world's art, and I feel privileged to be one of them," she told the Associated Press.
'Innovative musicians'
Grammy-winner Joel, who is best known for his hits Piano Man and Uptown Girl, added he was honoured to be among those bestowed with the recognition.
"But to be chosen for this special award essentially for doing what I love most amazes me more than anything,'' he said.
Santana said he was grateful to be in the company of more than 180 past recipients - of which only two have been Hispanic.
After the National Hispanic Foundation for the Arts complained the honours had long-excluded artists of Hispanic and Latino origin, the Kennedy Center revised its selection process this year.
The institution praised Hancock for establishing himself "as one of the most innovative musicians in the world, constantly breaking musical barriers and redefining the art of jazz".
Arroyo, it added, had "dazzled the world with her glorious soprano voice and continues to share her artistry with a new generation of opera singers".
More than 180 performers have received Kennedy Center honours since the award was created in 1978 including Aretha Franklin, Barbra Streisand, Meryl Streep, Luciano Pavarotti, Sir Paul McCartney and Willie Nelson.