Satellite radio Sirius XM sued by record companies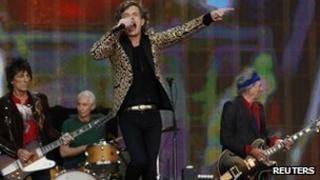 Singers Dionne Warwick and Judy Collins have backed a legal action suing US satellite radio station Sirius XM.
The three largest record companies Sony, Universal and Warner - along with ABKCO - claim Sirius used recordings from before 1972 without permission.
"It is disgraceful, unfair, and probably criminal that Sirius XM is stealing monies due to me and other performing artists," said Collins.
"Performers should be paid their fair share of the royalties."
While the station compensates artists for post-1972 recordings, it refuses to pay public performance royalties for music before then, the legal action states.
Federal copyright law does not protect recordings made before 1972. However, the action claims earlier tracks are nonetheless protected by state law.
The case, filed in Los Angeles Superior Court on Wednesday, contends that Sirius XM owes compensation to the record labels and those representing artists such as the Rolling Stones, The Animals and Sam Cooke.
Lawyers are asking for damages and punitive damages, as well as a preliminary and permanent injunction against Sirius.
Sirius XM, the only satellite radio service in the United States, has 25 million subscribers who pay $14.49 (£9.15) or more a month. Last year, it generated $3.4 billion (£2.1bn) in revenue.
'Record profits'
Nicole Cooke, granddaughter of Sam Cooke, said: "Sirius XM is using my grandfather's music to attract millions of subscribers and broadcasting his recordings for free.
"Sirius XM has been enjoying record profits at the expense of artists like my grandfather for too long."
The legal action is the third major complaint filed against the satellite service this summer. US band The Turtles and the royalty agency SoundExchange filed similar cases last month, each seeking as much as $100 million (£63m) in damages.
In a statement supplied by the Recording Industry Association of America, songwriter/guitarist Steve Cropper said, "It's an outrage that Sirius XM, a multi-billion [dollar] company making a big profit based partly on the popularity of its oldies channels is refusing to pay any artists like me one penny. That's not right and that needs to be changed."
Sirius has not commented on the legal action.