Bon Jovi cancel dates as drummer Torres undergoes surgery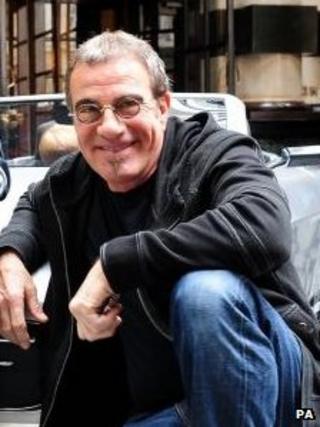 Bon Jovi drummer Tico Torres has had emergency surgery to have his appendix removed, forcing the band to postpone a string of South American concerts.
Frontman Jon Bon Jovi posted an apology on the band's website, promising to "re-schedule any dates that we can".
"Tico sends his thanks for all of your thoughts and prayers," he wrote.
"It was his desire to perform. He even promised the doctors he would come back for the surgery right after the show but the doctors prevailed."
The musician's surgery took place on Wednesday, the day after Bon Jovi's scheduled concert in Mexico City.
Torres, who turns 60 next month, is currently recovering at the American British Cowdray Hospital in Mexico City.
"We'll remain here with Tico in Mexico City and will see him through his release," wrote Bon Jovi on the website, adding that he and fellow band member David Bryan spent the day at the drummer's side.
'True warrior'
The band were due to be playing in Santiago's Estadio Monumental in Chile this Friday and Buenos Aires' Estadio Unico de La Plata, two days later. Those dates have since been postponed to dates after the band's two gigs in Brazil later this month.
The Chile concert will now take place on 24 September and the Argentina concert on 26 September. The band will return to play in the Foro Sol in Mexico City on 29 September.
"We know many of you make great efforts and travel from around the world to see us on tour. It remains our desire to give you the best that we have every night," the band's statement said.
"We are sorry for any inconvenience this sudden change of plans may have caused."
Torres, who has been married three times and has a nine-year-old son, Hector, has been with the band for 30 years.
In April this year, guitarist Richie Sambora unexpectedly left the Because We Can world tour, citing a "personal matter." Rumours prevail that he has been sacked from the band in a dispute over money.
On Wednesday he tweeted: "All my love, prayers and heart goes out to my brother, Tico. He's an amazing man, a true warrior, great artist and underestimated musician."