The Killing US is axed again by AMC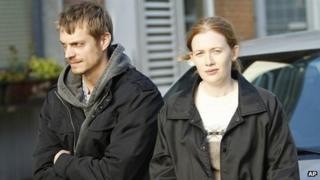 The US version of TV thriller The Killing has been cancelled by the AMC network after three series.
The news comes a year after the drama was axed following its second season - but executives reversed that decision.
"We have made the difficult decision not to move forward with a fourth season of The Killing," AMC said in a statement to Deadline.com.
The show, featuring Detective Sarah Linden, was made after the Danish original became a hit around the world.
The AMC statement added: "We want to thank our great partners at Fox Television Studios, creator Veena Sud, an extraordinary cast and the dedicated fans who watched."
With the action moved from Copenhagen to Seattle, actress Mireille Enos played Det Linden, who investigated a string of murders.
Backlash
However there was a backlash at the end of the first season when the central case remained unsolved and continued into the second run, which suffered from dwindling ratings.
The initial decision to cancel it was reversed after negotiations with production company Fox TV Studios.
Following the latest decision, Fox said it was "extremely proud of all three seasons of The Killing" but "would have loved to produce a fourth season for AMC".
Elsewhere, the FX network has announced plans to make an American Psycho TV series.
The action will be set in the years after the events in Brett Easton Ellis' 1991 novel and the 2000 big screen adaptation starring Christian Bale.
Patrick Bateman, the high-flying banker who dabbles in serial killing, will be in his 50s and will take on "a protege in a sadistic social experiment", FX said.
The book is also being adapted as a stage musical, which will open at the Almeida Theatre in London in December.