Dutch museum art theft trial resumes in Bucharest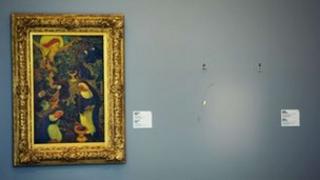 The suspected ringleader of a Romanian gang accused of stealing seven masterpieces says he will never reveal their location unless his trial is moved to The Netherlands.
Radu Dogaru's lawyer made the claim as the trial of the six-strong gang resumed in Bucharest.
Artwork including pieces by Picasso and Monet were stolen from Rotterdam's Kunsthal museum last October.
The works have been valued at around 18m euros (£15m; $24m).
Last month, lawyers for the suspects said they would return the paintings in exchange for moving their trial to the Netherlands.
Lawyer Catalin Dancu said that Dogaru had repeated the offer and told him "If the Dutch don't want to take me, no one sees the paintings".
Speaking to the press in a break in the hearing he said Dogaru "does not want to co-operate anymore with Romanian authorities because he does not trust the justice system in Romania".
The lawyer also said that, while Dogaru refused to say where the paintings were, he believed five of them had been moved.
"All the five paintings that were in Romania are now abroad, in the east. In my opinion, in Moldova," Dancu said.
He said the other two stolen artworks were in Belgium, but gave no further details.
There had been fears that some of the paintings had been destroyed.
After Dogaru's arrest it was claimed his mother Olga had burned a number of them. This was later denied and Dancu reiterated on Tuesday that no paintings had been destroyed.
The works were taken from the Kunsthal museum through a back entrance in an early morning raid that lasted less than three minutes.
They include Monet's Waterloo Bridge, Picasso's Harlequin Head, Matisse's Reading Girl in White and Yellow and Lucien Freud's Woman with Eyes Closed.
It was the Netherlands' biggest art theft since 20 works disappeared from Amsterdam's Van Gogh museum in 1991.
The trial, which resumed on Tuesday after a month's break, was attended by five of the six suspects - one is being tried in absentia.