The wild sound of Chris Watson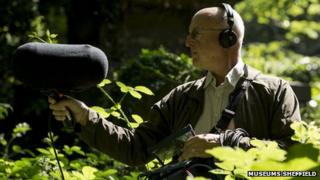 Chris Watson went from influential 1970s band Cabaret Voltaire to recording sound for David Attenborough's wildlife documentaries. Now the leading audio recordist has captured the sound of Sheffield for a "sound map" of his home city.
Chris Watson hears things that other people do not.
Well, we hear the same things. But Chris Watson listens.
We are doing an interview in an office next to the Millennium Gallery in Sheffield, where his new sound installation opens later this week, when Watson suddenly stops talking.
"Oh, there's a bell," he says. "It's the town hall clock. It's 11 o'clock."
It takes me a few seconds to realise that he is talking about a distant bell coming from outside the window, which I had not even registered.
I am suddenly aware of all the noise I would normally ignore - the children's voices on the street, the motorcycle revving up, the rhythmic thud of the escalator, the whoosh of the coffee machine.
"We're surrounded by so much noise pollution that we spend a lot of our lives blocking out sound," Watson says.
"When you go somewhere and really open your ears and really listen to a place - not just hear it, listen to it - that can be a really creative opportunity. Listening is a powerfully creative function and it can aid our daily lives."
He hopes his new installation will encourage people to really listen to their city. He has spent the past 18 months making audio recordings of Sheffield, from the steelworks to the moors to the football stands.
They will be played in a gallery through a 20-speaker true surround sound system, with speakers on the ceiling and in the floor as well as around the walls. There are sofas in the centre and Watson hopes visitors will use the sound as something to "rest their thoughts on".
In making some of the recordings, Watson has retraced steps he took 45 years ago when he took his first tape recorder - an "inspired" present from his parents - to record the calls of curlews and skylarks on the heather moorland and peat bogs on the edges of the city.
As a teenager he became interested in "music concrete", in which everyday sounds are used to compose music, and co-founded Cabaret Voltaire. The group's innovative, industrial creations went on to have a major influence on the subsequent dance and art-rock scenes.
"I incorporated my location sound recordings into the rest of the music we were producing in the studio," Watson recalls.
"At the time, we really felt as though we were doing something worthwhile and cutting edge. The technology was becoming more available - you didn't have to go into a vast £1,000-a-day studio. I had a small portable tape recorder."
But he was looking - and listening - beyond the recording studio and left the group in 1981 to train as a wildlife field recordist.
"I was just as interested in what I was hearing outside [the studio] as what we were creating inside," he says. "I supported the John Cage idea that there's enough music in the world already - all we need to do is listen a bit more carefully.
"I like to think I can hear the rhythms, I can hear the timbre and the elements, I can hear music in everyday sounds."
Initially working for Tyne Tees Television, he went on to travel the world recording the noises of nature for Attenborough documentaries including The Life of Birds - for which he won a Bafta in 1999 - plus The Life of Mammals, Life in the Undergrowth and Frozen Planet.
He has also recorded many documentaries for BBC Radio 4, and was named radio broadcaster of the year by the Broadcasting Press Guild in 2012 for The Wire.
Having recorded everything from ants to elephants, he says capturing the sound of wild animals requires patience and the right equipment.
"When I started working in television, I became aware that zoom lenses can fill the [television] frame with an animal's eye from a great distance. Sound technology can't do that. There is no audio equivalent of a zoom lens.
"So I became interested in getting microphones very close - into places, a lot of the time, where you wouldn't be able to, or wouldn't want to, put your ears.
"One useful device for that is the personal microphone - the tiny microphone you see on newsreaders' blouses and lapels every night on television.
"You can get them into all sorts of interesting places - in the side of a bird's nest, down an animal's burrow, on a branch, or in a bush where it can't be seen."
The microphones are usually attached to very long cables - often a few hundred metres long - with Watson wearing headphones at the other end in a hide or a vehicle or hiding behind a bush so as not to disturb the wildlife.
"There are a couple of times when I've gone down to pick up a microphone cable to be told at the last minute it's not a cable, it's a snake," Watson says. "That's happened in Africa in very dark conditions."
Watson says the sound and film footage for natural history documentaries are often recorded at different times. A sound man and his cables can get in the way of a film crew, and vice versa.
He says he tries "as far as possible" to record the same animals in the locations as those used by the film crews so producers do not resort to sound effects, but admits that wildlife filmmaking, "like any filmmaking, is a process of creating an illusion".
The sound and film are stitched together in the edit suite - preferably without too much added noise pollution.
"Hopefully it's not plastered with too much inappropriate music," Watson adds, "as I have to say a lot of television wildlife programmes are."
Inside the Circle of Fire: A Sheffield Sound Map runs at the Millennium Gallery, Sheffield, from 12 September 2013 to 23 February 2014.