Diana film re-opens old chapter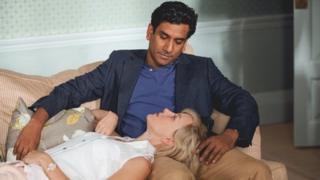 More than 16 years have passed since Diana Princess of Wales was killed in a car crash in Paris but the life and death of the Royal Family's most famous member continues to create headlines.
In August, the Metropolitan Police announced it was assessing new information it had recently received about the deaths of Princess Diana and Dodi Al Fayed in 1997.
This week, a new film is released based on the princess's two-year relationship with heart surgeon Hasnat Khan, which ended a few months before her death.
While it eschews the obvious route of a typical biopic, bringing the story of one of Diana's lesser-known romances to the big screen is not without its pitfalls.
Any film about the woman who was once the most famous in the world and loved by millions is bound to provoke criticism from some quarters.
Especially when that film is based on an intimate relationship where one can really only guess what went on behind closed doors.
The screenplay for Diana is largely based on Kate Snell's 2001 book Diana: Her Last Love. Playwright Stephen Jeffreys, who penned the script, admits it was a challenge.
"The crucial events of any such films are the moments to which there were no witnesses - the private scenes. In these scenes I had to take off and fly using empathy and imagination. That was the hardest part," he says.
But perhaps the most difficult task belongs to the actress who risks playing such an iconic role - step forward Oscar-nominated actress Naomi Watts, who admits it was daunting.
"She was so famous and everyone feels they know her... so to take possession of that character was quite scary.
"I knew that people would be focusing on things like 'she's not tall enough, she doesn't look right, she doesn't have the right voice'. You have all those naysayers in the background but [she was a] fascinating woman who lived an extraordinary life with a horrifically tragic ending."
Although the film has been met with largely poor reviews, author Snell believes Watts did a sterling job in her portrayal of Diana.
"At one point, I just closed my eyes and listened, and it was just incredible - that feeling she was actually there... she's really distilled and embodied Diana."
Diana is directed by German filmmaker Oliver Hirschbiegel, whose 2004 film Downfall, about the final days of Hitler, was nominated for a best foreign language film Oscar.
Surprisingly, Hirschbiegel says it was the script that attracted him to the film, rather than the fact it was about the princess.
"The challenge for me is that I always wanted to do an intense authentic love story - this is a universal one which drew me towards it.
"As a German, I don't come with a lot baggage really. When I got into it, I didn't really know anything about Diana, I was really surprised when reading the script because there were so many details I had no idea about. She's a fascinating, strong and different character."
Watts says she was also drawn to this particular time in the princess's life: "This love story was in the centre of that two-year period, the same time that she achieved a lot of great things.
"I didn't know this story - the love story - and I believe not everyone in Britain knew either so I just did a lot of research and tried to put together my interpretation of who she was."
Watts has played some formidable women during her film career, including a woman who loses her husband and two daughters in a hit-and-run accident in 21 Grams, and a physician caught up in the trauma of the 2004 tsunami in the Indian Ocean in The Impossible. Both roles landed Watts Oscar nominations.
"Like all the women who I take on, [Diana] is someone who's complicated, fascinating, full of contradictions," the actress says.
While the film does not explore the conspiracy theories that still surround Diana's death, making a film about any aspect of her life was always going to be controversial.
"There are obviously people in this story who are still alive so we treated it with a great deal of respect and sensitivity," Watts explains, presumably with reference to Khan and Diana's sons Prince William and Prince Harry.
While the princes hardly feature in the film, their mother's often complex relationship with the paparazzi features heavily.
In preparation for her role, Watts says she tried to build up a picture of what it must have been like living permanently in the spotlight.
"[As an actress] I can get a glimpse of it but nothing to the scale of what she was having to deal with.
"I imagine that would be fairly horrific and almost impossible and her need or desire to control it makes perfect sense to me," she says.
"When you're having to deal with something that's basically making you calculate every single moment of your life, you would want to try and control it. It would be virtually impossible to live a life like that, when you're that famous, without discomfort."
While Watts and Hirschbiegel are unlikely to pick up any Oscar nominations this time around, only the box office will tell whether the public still have an appetite for raking over yet another aspect of Diana's life.
Diana is released in UK cinemas on 20 September.