Miss Saigon sets one-day sales box office record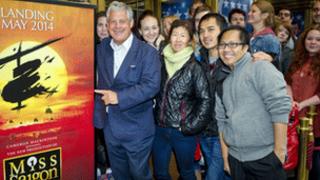 Musical Miss Saigon, which returns to the West End next year, has set a new box office record with takings of £4.4m on the first day of ticket sales.
That figure eclipses the amount taken by The Book of Mormon, which set the previous record in March when it took £2.1m in one day.
"I'm bowled over with today's box office take. It's staggering," said the show's producer, Cameron Mackintosh.
"Today's response is completely overwhelming."
The exact total taken on Monday, when the box office opened, was £4,402,371.
It also beat the Broadway record of $3m (£1.9m) taken on the first day of sale for The Producers in 2001.
Miss Saigon has played in 300 cities in 15 different languages, winning many awards around the world since it first ran in London at the Theatre Royal Drury Lane 25 years ago.
Based on the opera Madame Butterfly, Alain Boublil and Claude-Michel Schonberg's musical tells the tragic story of an orphaned Vietnamese girl, Kim, who falls in love with an American GI named Chris.
Casting has not yet been announced for the 2014 revival.
Schonberg and Boublil, who also wrote Les Miserables, have written a new song called Maybe for the role of Ellen in the new production of Miss Saigon.
The show will open on Saturday, 3 May next year at the Prince Edward Theatre and is currently booking until 25 October, 2014.