RSC and Barbican announce three-year deal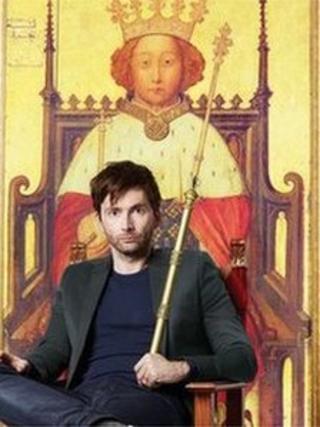 The Royal Shakespeare Company and the Barbican Centre are rekindling their relationship with a new partnership.
Some plays will run both in Stratford-upon-Avon and London, beginning with Richard II, starring David Tennant.
The collaboration comes 11 years after the RSC quit the London venue.
Artistic director Gregory Doran said he was "delighted to bring our work to London audiences" but added the two institutions were "dating", not "announcing wedding plans".
The transfer of Richard II had already been announced - running from 10 October in Stratford before transferring to the Barbican.
Tuesday's announcement extended the partnership for three years, with Henry IV, Parts I and II also coming to the capital, as well as Newcastle's Theatre Royal.
The production will star Antony Sher as Falstaff, with Jasper Britton in the title role.
The RSC has not had a regular London home since giving up its residency in 2002, after a 20-year partnership.
As part of the new deal, the RSC and the Barbican will also collaborate on a creative learning programme.
Shakespeare anniversaries
Toni Racklin, head of theatre at the Barbican, said: "We are delighted to be able to announce today that our relationship with the RSC will continue beyond Richard II with more brilliant plays and with both organisations' education departments working together to realise an exciting and unified creative learning programme."
Announcing his first full first full season of programming since becoming artistic director in September 2012, Doran also revealed plans of a two-year, nationwide celebration of Shakespeare beginning in April 2014, the 450th anniversary of the playwright's birth.
Entitled Shakespeare Nation, the celebrations will culminate in 2016 with a national tour of A Midsummer Night's Dream, titled Dream 16.
The production will include performances from local actors at each location, with schoolchildren as playing Titania's fairy train and amateur drama groups as the mechanicals and Bottom.
"We will build on our decades long relationships with theatres all over the country and will continue our collaborations with amateur companies across the UK," said Doran.
"Central to this aspiration is our intention to stage each of Shakespeare's plays just once in the next six years to 2019, making every play an event," he added.
Among those productions, Simon Godwin, associate director at the Royal Court and the Bristol Old Vic, will put The Two Gentlemen of Verona on the Royal Shakespeare Theatre stage for the first time in 45 years.
The 2014 summer season will also include three Jacobean plays under the banner, Roaring Girls, led by deputy artistic director Erica Whyman
Centred around roles for women, they will be staged at the Swan theatre between April and October.
Whyman will also lead the redevelopment of The Other Place in the former Courtyard Theatre as a "creative hub and festival space", which the RSC hopes to open in 2015.