Sir Patrick Stewart marries, Sir Ian McKellen officiates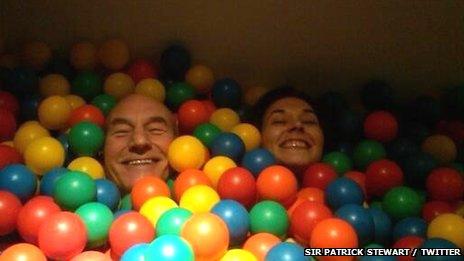 Sir Patrick Stewart has married jazz singer Sunny Ozell, in a ceremony conducted by fellow thespian Sir Ian McKellen.
The Star Trek actor, 73, announced his nuptials on Twitter, simply writing, "Yes, married" under a picture of himself and Ozell, 35, in a ball pool.
The couple have been together for five years, having met when Sir Patrick played Macbeth in Brooklyn, New York.
Sir Ian revealed his role in the ceremony to Jonathan Ross in March.
"How else do you put that? I am going to officiate at his wedding."
Sir Ian, who has six Olivier awards, said the wedding would take place in Massachusetts or "in the middle of America, somewhere" - where one can apply for a "one day marriage designation", allowing you to legally preside over a ceremony.
"I've done it once before with two guys having a civil partnership," in the UK, he added. "I was crying my eyes out."
Following Sir Patrick's wedding, Sir Ian posted a photograph to Facebook, in which he was holding a "Doctor of Divinity" certificate and a black t-shirt emblazoned with the word "Minister".
"I played my part," he wrote, while linking to Sir Patrick's Twitter announcement.
The pair are long-standing friends, playing opposite each other in the X-Men films, as well as stage productions of Samuel Beckett's Waiting for Godot and Harold Pinter's No Man's Land.
Sir Patrick, who played Captain Jean-Luc Picard in the Star Trek series from 1987 - 2002, married his first wife, Sheila Falconer, in 1966 and they had two children together before separating in 1990.
He was married for a second time, to Wendy Neuss, from 2000 to 2003.
Ozell is originally from Reno, Nevada, and sang with Latin band Chupacabra before launching a solo career.
Two weeks ago, she uploaded a spoof video of Sir Patrick giving her a tutorial in the actor's art of the "quadruple take" to YouTube.
Their unconventional marriage photograph is a reference to a previous Twitter snap of Sir Patrick, which went viral last year.
Related Internet Links
The BBC is not responsible for the content of external sites.