Riddick blasts into US box office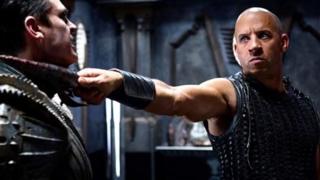 Actor Vin Diesel has shot to the top of the US box office with Riddick, his third outing as the titular convict turned anti-hero.
The movie made $18.7m (£11.9m) in its opening weekend, vindicating the star, who wrested control of the character from movie studio Universal.
The Butler, starring Forest Whitaker as a White House staff member who serves eight presidents, took second place.
One Direction's documentary This Is Us dropped to number six.
The pop group's 3D film saw its takings tumble from $15.8m to $4.1m in its second week of release - but has already recouped its modest $10m budget several times over.
It was originally thought to have topped the US box office last weekend - but final figures overturned early estimates, placing The Butler back at number one.
It meant that the civil rights drama was the first film of 2013 to spend three weeks at the top of the chart.
Riddick was the only new release last week, but it gave a boost to a traditionally sluggish September box office.
"Typically, the weekend after Labor Day is one of the slowest weekends of the year," said Paul Dergarabedian, an analyst for Hollywood.com.
"By Universal releasing a brand-new sci-fi movie with one of the biggest stars in the world, they took advantage of that and came out on top. It gave the weekend a nice boost."
Other films in the top five included Spanish-language comedy Instructions Not Included, starring and directed by Mexican television star Eugenio Derbez, at number three.
Jennifer Aniston comedy We're The Millers came fourth, with Disney animation Planes fifth.
Cameo deal
Vin Diesel first played Riddick, an alien mercenary with glowing eyes, in 2000's low-budget thriller Pitch Black. It proved to be his breakout role, after bit parts in films such as Saving Private Ryan.
It generated a live-action sequel, The Chronicles Of Riddick, in 2004. Plans for further instalments evaporated when the film only took $116m, against a budget of $100m.
But the character got a second chance when Universal asked Vin Diesel to make a cameo in The Fast and the Furious: Tokyo Drift in 2006. He agreed, but instead of a salary, he demanded the rights to the Riddick character.
He then ploughed his own money into financing the third film, in which the character is badly injured and trying to reach his homeland.
Somewhat ironically, Universal came back on board when shooting had finished, and is the film's distributor in most territories.
Vin Diesel says he is already planning a fourth instalment.
"I'm very much committed to this world, committed to the character, committed to the franchise, and very much excited about the following chapters and the places this character will go," he told Time Magazine.