The Lowry artistic director, Robert Robson, dies at 58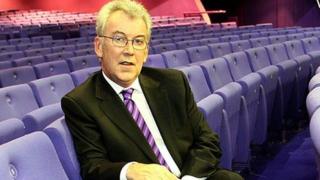 Robert Robson, artistic director of The Lowry arts centre in Salford, has died at the age of 58.
Mr Robson had been artistic director at the venue, which houses theatres and galleries, since 2003.
The Lowry chief executive Julia Fawcett said he died suddenly on Friday.
"He was respected across the industry, and will be greatly missed by his colleagues here at The Lowry and the people he worked with and supported across the country," she said.
"We hope everyone would join us in sending our deepest condolences to Robert's family."
Mr Robson started his career at Cumbernauld Theatre in North Lanarkshire before running Glasgow's Mayfest arts festival and His Majesty's Theatre in Aberdeen.
The Lowry, which comprises three theatres, plus galleries for its collection of LS Lowry artworks and other exhibitions, was Greater Manchester's most popular visitor attraction in 2012, attracting 820,000 people.