Diana film slammed by British press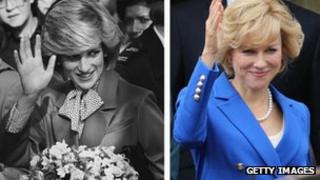 Critics have given a cold reception to a new film starring Naomi Watts as Diana, Princess of Wales in the final years of her life.
The film, which premiered in London on Thursday, also stars Lost's Naveen Andrews as heart surgeon Hasnat Khan, with whom Diana had a two-year affair.
The film company said they set out to make an "insightful and compassionate study of Diana's later years".
But critics have called it "atrocious and intrusive".
Writing in her one-star review, The Times' Kate Muir took aim at the biopic's "squirmingly embarrassing script".
The Mirror's David Edwards described the film as "a cheap and cheerless effort that looks like a Channel 5 mid-week matinee".
"The Queen of Hearts has been recast as a sad-sack singleton that even Bridget Jones would cross the street to avoid," writes Edwards.
Similarly Christopher Tookey's one-star review in the Daily Mail brands the film as "terribly, terribly dull".
"The movie is not as tacky or sensationalist as one might fear," writes Tookey, but concludes "the bottom of the royal barrel has been scraped once too often".
"I hesitate to use the term 'car crash drama', writes Guardian critic Peter Bradshaw. "But the awful truth is that, 16 years after that terrible day in 1997, she has died another awful death."
"This is due to an excruciatingly well-intentioned, reverential and sentimental biopic about her troubled final years, laced with bizarre cardboard dialogue - a tabloid fantasy of how famous and important people speak in private."
Watts, best known for her Oscar-nominated turns in last year's The Impossible and 21 Grams, also comes in for criticism.
Bradshaw says "Watts's elaborate impression has... the doe-eyed gaze of seduction and reproach". But adds "she looks like she's in a two-hour Spitting Image sketch, scripted by Jeffrey Archer".
The Mirror's Edwards scoffs that Watts "looks, acts and sounds nothing like the Princess of Wales".
"Wesley Snipes in a blonde wig would be more convincing."
The Independent's Geoffrey McNab gives a kinder 3-star review, praising Watts's "intense and volatile performance", but echoes that the 44-year-old actress "doesn't really resemble the character she is playing".
"What makes it frustrating as a film though, are its many sudden shifts in mood," he adds.
The Daily Express, however, counters the momentum, calling the film "a must see this autumn [which] will leave the audience in tears".