Strictly Come Dancing 2013: Who'll look good on the dance floor?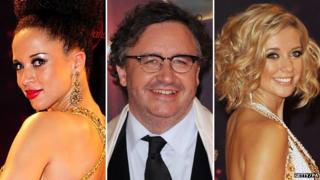 Ahead of Saturday's Strictly Come Dancing launch show, some of this year's celebrities tell us whether they expect a waltz in the park or murder on the dance floor.
As in previous years, this year's Strictly line up sees stage school alumni rubbing sequined shoulders with absolute novices.
Leading the favourites are former Coronation Street actress Natalie Gumede and Countdown presenter Rachel Riley - who represent both skill levels.
"I'm an actor who went to stage school so I have danced before," admits Gumede, "but I've never done ballroom".
The 29-year-old actress, who played Tyrone Dobbs' abusive fiancee Kirsty Soames in Corrie, graduated from the Italia Conti Academy of Theatre Arts in 2003.
"We're all coming in at different points with different things to learn - the most important thing is that we all improve from where we're at."
Riley, 27, by contrast, says her dance experience amounts to learning a simple routine ahead of her marriage last year.
"I had an hour before my wedding, so this is going to be a massive crash course," she says.
"For my 21st birthday party my fancy dress theme was Strictly Come Dancing. I had a dress made and I had to sew the sequins on myself. So this is amazing.
"It's also my mum's favourite programme. When I got my job on Countdown the first thing she said was 'do you think you might be able to get me Strictly tickets?'
"When I told her I was on it, she almost fell over!"
The launch show, which will be screened on Saturday, pairs up the celebrities with their professional dancing partners. The live shows begin after a few weeks' rehearsal.
For its 11th series, Strictly has a new home at Elstree Studios in Hertfordshire, having been based at BBC Television Centre in White City since 2004.
The production will utilise the massive 1,465 sq metre George Lucas Stage - previously home to the Star Wars films, as well as TV shows such as Dancing on Ice, The Voice and Who Wants To Be A Millionaire?
Hairy Biker Dave Myers, 55, plans to moor his houseboat near the studio complex, which is also home to the Big Brother compound. He says he's enjoyed the challenge of rehearsing with the professional dancers... so far.
"It's like your first day learning to drive and somebody gives you and Ferrari, and you stall it the traffic lights," he laughs.
Waterloo Road star Mark Benton, who recently returned to his stage roots in the UK tour of Hairspray, says: "I've always loved dancing and I think it's great to start something when you don't know you can do it."
The 47-year-old actor adds: "Though I am going to do one of those back flips, and want to warn you about that now!"
Singer Sophie Ellis-Bextor, 34, whose chart hits include Groovejet and Murder on the Dancefloor, predicts that Strictly will be "vastly different" to her pop career.
"In my videos I don't really do a lot of dancing, if you look closely," she says. "With this, I can't hide. I have to do it.
"We're here to learn something and this is not our day jobs. If all else fails I'm still a singer!"
She reveals she's already had to endure endless puns about Murder on the Dancefloor.
"Let's hope I get to dance to it one week and then we can get it out there," she says. "Hopefully, that won't be my last week!"
Meanwhile, BBC Breakfast presenter Susanna Reid, 42, has been getting advice from her colleague and former Strictly contestant Bill Turnbull.
"He said 'get fit first' - he's my inspiration."
Regular viewers will know that Reid, a keen runner, has already appeared on Strictly - dancing a special routine with Robin Windsor for Children in Need as part of a troupe of BBC newsreaders.
Hollyoaks star Ashley Taylor Dawson follows in footsteps of former contestants Ali Bastian and Ricky Whittle, who also came to the show from Channel Four's teen soap. The 31-year-old has some dancing form, having enjoyed a top 10 hit in 2002 with pop band allSTARS.
"We had a bit of choreography, so I got used to picking up steps but this is a completely different discipline and I'm out of my depth - but I'm up for a challenge.
"Ali and Ricky got to the final," he adds, "so there's a lot of pressure. In this show you are in competition with yourself. It's how you work with your partner and I don't want to let her down."
As well as continuing to appear in Hollyoaks full-time, the Wilmslow-born actor is expecting the birth of his second child before the end of September.
Despite the clash, he will stick with his busy Strictly schedule. "For me, this is the biggest challenge of my life and I want to throw everything can into it."
Dragons' Den star Deborah Meaden, 54, says she was "terrified" before recording the launch episode, but afterwards wished she could "have done it 10 times".
The entrepreneur adds: "I spend my life in a world where I know what I'm doing and most questions that come up, I know the answers.
"But here they say things like 'you tap the shoulder on the five of the eight' and I think 'are you speaking English?'"
Former Bond girl Fiona Fullerton, a long-time Strictly fan, says it feels "surreal" to be mixing with the regular dancers and the judges.
"When we started rehearsing last week, suddenly all these people were in the room that I knew so well. It was a childlike reaction. It's like I've got into the sweetie shop."
The 56 year-old, who appeared alongside alongside Roger Moore's 007 in A View To A Kill, discloses that she had to keep her involvement in Strictly secret from her mother, also a huge fan of the show.
"I couldn't tell my mum for months because she'd tell everybody in Gloucestershire!"
Former Casualty actor Patrick Robinson, 49, who took part in Let's Dance For Comic Relief in 2009, says he's usually the first on the dance floor at weddings.
"I don't like dancing, I love it," he says. "I'm looking forward to all the training. I've got some ideas about the music I'd like to use, and I want to conquer the Viennese Waltz."
Rugby star Ben Cohen, part of the World Cup-winning England team in 2003, has received texts of encouragement from rugby heroes and former Strictly dancers Matt Dawson and Austen Healey.
"When I decided to sign up for it it was all about learning a new skill set," says the 34-year-old sportsman.
"I was told it was incredibly hard work, so I didn't come into with the blinkers on. I'm going to enjoy the journey."
Meanwhile, fashion designer Julien Macdonald promises he isn't going to take criticism from the judges lying down.
"I never understand why the celebrities just stand there and take a grilling from the judges," says the 42-year-old, who was the resident fashion expert on backstage gossip show It Takes Two in 2012.
"I'm not a shrinking violet. If they give me constructive criticism I will take it but if they don't, I will disagree with them.
"I'm not afraid of them!"
Also in the 2013 line-up are golf legend Tony Jacklin, 69, model Abbey Clancy, 27, and TV and radio presenter Vanessa Feltz, 51.
Sir Bruce Forsyth and Tess Daly return to host the series on BBC One on Saturday at 18:50 BST.